UNASUR Secretary General officially takes office May 9 in Guyana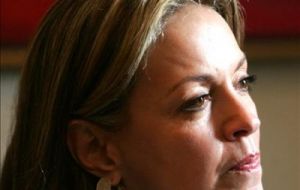 Union of South American Nations, UNASUR, nominated Secretary General Maria Emma Mejia said Friday in Uruguay that her round of visits to country members has the purpose of defining a work agenda to be elaborated once she formally takes office in May.
"I've been to Ecuador, Chile, Colombia, Brazil and my next visit the coming week is Paraguay", said Ms Mejia following a meeting with Uruguayan president Jose Mujica and Foreign Affairs minister Luis Almagro.
Basically "we want to draw a draft of what the different countries would like to expect from the Secretary General's office once it is formally institutionalized", added Ms Mejia.
The former Colombian Foreign Affairs minister said she would be taking office next May 9 in Georgetown, Guyana that currently holds the rotating presidency of Unasur.
"Beginning June first I will be in Quito where the Secretariat offices are and operate", said Ms Mejia.
She mentioned eight main areas where her job will be concentrated of which the priorities are energy integration, infrastructure, security and defence, health and technology innovation.
In the first few months "we will have a period in which all our efforts will be dedicated to institutionalize Unasur".
Ms Mejia also paid tribute to former Argentine president Nestor Kirchner who was first secretary general for five months.
The former Colombian official will hold her job until May 2012 when she will be replaced by Venezuela's Ali Rodriguez thus completing the two year period.
Uruguayan minister Almagro said the meeting had been extremely fructiferous and helpful in determining priorities, since Unasur has "a long institutional work ahead of it". He mentioned specifically the budget and the working rules.
Almagro said that Unasur "has become the most important political convergence instrument at continental level" particularly in its efforts to promote peace, stability and democratic governance.
In Paraguay Ms Mejia will have a double task: the first as in all other capitals, collecting aspirations and ideas, and the second convincing the political system and Congress to formally vote the country's integration to Unasur.