Air France Flight 447 cockpit voice recorder recovered from the Atlantic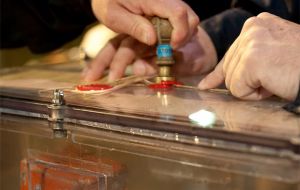 The French aviation safety agency BEA announced on Tuesday the discovery and recovery of Air France Flight 447′s cockpit voice recorder from the bottom of the Atlantic Ocean, nearly two years after the Airbus A330-200 disappeared.
The recorder was located late Monday night local time and retrieved early Tuesday morning by the Remora 6000, a US-built remotely operated vehicle (ROV). The discovery comes a day after the same team found and retrieved the airplane's data recorder.
On June 1st, 2009, Air France Flight 447, an Airbus A330-200, was en route to Paris Charles de Gaulle International Airport from Rio de Janeiro when it apparently plunged into the Atlantic roughly halfway between South America and Africa, killing all 228 people on board.
The cause of the crash has been impossible to determine without the data and voice recorders, which were widely believed to have been unrecoverable due to the extremely deep seas in the area.
Photos of both recorders seemed to indicate that they were relatively intact, but it is not yet known if the data is still recoverable. The intense pressures and temperatures of such depths, as well as the long time elapsed, are well beyond those the recorders were designed to withstand.
Officials hope the audio recording of the final few minutes of the flight can help them determine exactly why the plane crashed. The plane was flying in a storm, but the exact cause of the crash has not been determined.
Experts speculate that icing on external speed sensors gave the pilots incorrect readings.
In March, a French judge placed the European aircraft maker Airbus under investigation for possible involuntary manslaughter charges in the 2009 crash.