Tax and investment protection agreements needed to boost India/Mercosur trade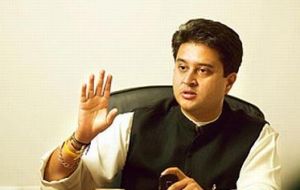 India emphasized the need to deepen trade and investment engagements with Latin America by expanding the existing PTA with Mercosur, during a business seminar in Montevideo, Uruguay. But he added that double tax and investment protections agreements are critical to expansion.
"It is important that the leaders on both sides (India and Mercosur) proactively take steps to expedite completion of the process for expansion of the Preferential Trade Agreement" said India's Minister of State for Commerce and Industry Shri Jyotiraditya Scindia, during the second leg of his visit to Latin America.
Scindia who chairs a committee to promote trade and investment with Latin America was the main speaker at a Montevideo business seminar in Montevideo and later in the day met with President Jose Mujica.
Addressing business delegates in Uruguay the Indian minister highlighted the bilateral opportunities available between the two countries.
"There is tremendous possibility for bilateral cooperation and we need to deepen engagement at the institutional level and expand the strategic relationship," he said.
He also stressed that the two countries should increase their bilateral trade to one billion USD 1 billion from the current USD 110 million.
Mr. Scindia further said Double Tax Avoidance Agreement (DTAA) and Bilateral Investment Promotion and Protection Agreement (BIPA) between the two countries are critical to expand economic relations.
India is targeting African and Latin American countries to increase exports and is also providing certain fiscal incentives to exporters to explore these markets. India's exports to Mercosur bloc during April-September were estimated at 2.25 billion USD while imports were also in the same region.
Scindia highlighted the complementarities and similarities between India and Uruguay and mentioned of special interest for Mercosur India's growth, in such sectors as telecom, human skills and the country's "demographic dividend".
"India can contribute in pharmaceutical and drugs, engineering and machinery and information technology" said Uruguay's Industry and Energy Minister Roberto Kreimerman recently back from week long visit to India with a delegation of Uruguayan businesspeople and officials.
He pointed out that Indian investments into Uruguay can flow into sectors such as agriculture, making Montevideo and Uruguay as a trading hub for Indian Latin America interests, oil and gas.
Scindia also raised the issue of visas for Indian businessmen travelling to Uruguay. Currently it is very difficult and time consuming. In contrast India issues 5 year visas for multiple entries to Uruguayan businessmen.