Mercosur main partners heading for a record year in bilateral trade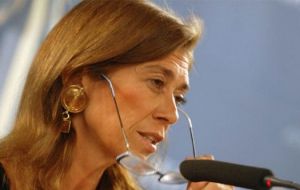 Trade among the two leading Mercosur partners reached 11.7 billion US dollars during the first four months of the year with Argentine exports to Brazil reaching a record 5.2 billion USD. This is 29% higher than in 2010 and 23% above the 2008 record year.
"We're heading to a year with record sales to Brazil and record overall trade", said Argentine Industry minister Deborah Giorgi.
However the Argentine trade deficit with Brazil soared 83.2% in April compared to a year ago while in first four months it reached 1.3 billion US dollars against 587 million USD from the same period in 2010, according to reports from the Ministry of Industry.
Argentine exports to Brazil in April totalled 1.495 billion USD (up 28.7% from a year ago) while imports from Brazil reached 1.76 billion USD (up 34.7%). In the first four months of 2011, exports increased 21.9%, while imports from Brazil jumped 34.4%.
"In April exports to Brazil signalled a monthly historic record, as well as in the first four months of the year, while the trade deficit was down 46% compared to March", said Minister Giorgi.
She added that for the first time this year there has been "an evident deceleration of the trade deficit (with Brazil) which in March had reached 492 million USD".
The most dynamic Argentine sectors in sales to Brazil were autos and auto-parts, gasoline for the petrochemical industry, wheat, plastic and manufactures, aluminium and manufactures, which made Argentine Brazil's third most important supplier behind the US (2.6 billion USD) and China (2.2 billion USD).
Brazilian sales to Argentina included autos and auto-parts, machinery and equipments, iron ore, plastic, aircraft and oil. This made Argentina, Brazil's third most important market behind China with 3.9 billion and the US with 1.9 billion.