Soybean and by products represent 25% of Argentine exports
Saturday, May 7th 2011 - 04:50 UTC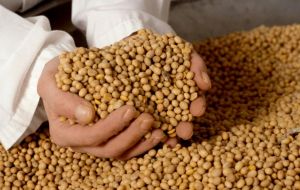 Argentine overseas sales of soybeans and by products reached 17.3 billion US dollars in 2010, equivalent to 25.4% of total exports, according to the latest report from the country's statistics office INDEC. In 2009 the soy complex exports represented 23.3%.
Soy is followed by the automobile industry with exports totalling 8.6 billion or 12.6% of total exports.
Oil and gas come in third with 5.4 billion USD, or 7.9%. This share has been dropping sustainedly since 2006 when they represented 14.4% of Argentina's total exports.
Corn figures in fourth position with 3.3 billion USD, equivalent to 4.7% of overseas sales.
Gold exports are a surprise given their sustained advance in the last few years. In 2010 they reached 2.01 billion USD, or 3% of total exports. This compares with 1.9% in 2009 and 1% in 2007, meaning that gold exports have more than trebled in recent years.
Petrochemicals exports total 1.8 billion USD (2.7%); steel, 1.6 billion USD (2.3%) and copper with 1.5 billion, (2.2%).
The ranking of the first ten items is completed with wheat, 1.35 billion (2%) and meats, 135 billion (2%).