Australia submits Japan's Antarctic whaling program to the International Court
Monday, May 9th 2011 - 19:12 UTC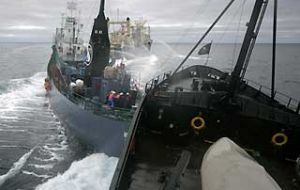 The Australian government filed a written submission at the International Court of Justice in Netherlands calling for an end to Japan's Antarctic whaling program on the grounds that it breaches the international ban on commercial whaling. Australia made the official presentation of its case Monday at the ICJ.
''Despite Australia repeatedly calling on Japan to cease its illegal whaling activities, Japan has refused to do so,'' said Attorney-General Robert McClelland, Foreign Minister Kevin Rudd, and Environment Minister Tony Burke in a joint ministerial statement.
The Australian government is responsible for protecting five whale species within its waters, including the humpback and blue whales. These animals are killed for their oils, and flesh but Japan argues that it engages in whaling purely for scientific research.
"The Government believes the whaling carried out by Japan is commercial, not scientific, and does not fall within that narrow exception," said the statement. Japan rejects accusations that it breaches both the International Convention for the Regulation of Whaling and the ban on whaling in the Antarctic.
These differences have been ongoing for several years, and have involved numerous clashes between anti-whaling protestors and Japanese whaling ships. The Antarctic Ocean stretches from the continent of Antarctica in the south but does not have a clearly defined northern limit.
The submission from Australia will remain confidential until Japan has submitted its counter-memorial arguments, which it must do by 9 March 2012. Oral arguments will take place at a hearing shortly thereafter.