Buenos Aires mayor drops out from October presidential race
Monday, May 9th 2011 - 01:03 UTC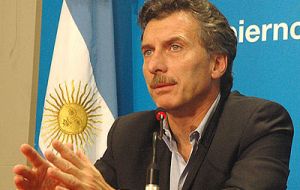 Mauricio Macri the conservative mayor of Buenos Aires City and one of the leading contenders for next October's presidential election decided over the weekend not to challenge populist President Cristina Fernandez de Kirchner and instead will seek re-election to his post.
Mayor Macri and Argentina's president are bitter foes, but opinion polls suggest he lacks the sufficient support needed to unseat Mrs Kirchner as long as other rivals remain in the race for the October presidential election.
"After much reflection and debate, I feel and I'm convinced that the best place from where I can make a contribution to Argentina…is from the city of Buenos Aires," said Macri during a political rally Saturday.
On making his withdrawal announcement Macri called for the unity of political leaders. He said he wants to be "an instrument for the national unity" and considered that he could "contribute" from the city. He insisted in the need of an accord with the opposition, because "without unity it's going to be difficult to build a better society" and assured that his "decision for life" is "to be a concrete instrument for the national unity service."
Latest opinion polls indicate President Cristina Fernandez has sufficient support in Argentina and might easily win re-election in the first round against a divided opposition. Macri in stepping down follows rebel Vice-President Julio Cobos, Radical party senator Ernesto Sanz and left-wing congressman Fernando "Pino" Solanas. His exit leaves Congressman Ricardo Alfonsin and former President Eduardo Duhalde as her leading declared challengers.
However after announcing his decision, he admitted that his party "PRO will work and have a national proposal" from the City.
The presidential election is scheduled for October 23, but a primary vote August 14 has taken on more importance for those who hope to change the government for the first time since Cristina Fernandez's predecessor and husband, the late Nestor Kirchner, took office in 2003.
By law, all candidates must run in the unified primary election, where Argentine voters can choose any candidate they like irrespective of party affiliation. That means the primary will show better than any poll which opponent has the best chance of unseating Mrs Kirchner. And that will increase pressure on the others to drop out.
Macri's decision to run again for Buenos Aires mayor is a calculated risk because Mrs. Kirchner is expected to throw a great deal of support behind whomever she picks to run against him in the capital. Two government ministers and a leading capital politician are among the ruling party's possible choices. She is expected to decide between them next week.