Global central bankers concerned with commodity markets' volatility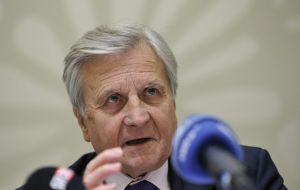 Global central bankers voiced concern about recent volatility in commodity markets, saying they needed to better understand its impact on inflation at a time when some emerging economies may be overheating.
Jean-Claude Trichet, speaking Monday as chair of talks at a Bank for International Settlements meeting, also said policymakers had not discussed in depth Greece's fiscal problems but said there was a settled view that some advanced economies needed to improve their finances.
"We have associated of course potential overheating in emerging market economies with the overall recovery confirmed at a global level," Trichet told a news conference after the meeting.
"We have this issue of commodity prices and oil and energy prices in particular with a level of volatility that we can see recently ... we consider this is an issue which is of great importance. It has a great impact on CPI inflation all over the world."
On the topic of oil price swings, Trichet, who heads of the European Central Bank, said the Saudi Arabian central bank governor had given assurances that the world's top oil exporter would keep supplies appropriate.
Trichet said that while some bumps were expected in the road ahead, policymakers believed the global economic recovery remained on track.