Repsol plans to sell an additional 3% of YPF in the Argentine market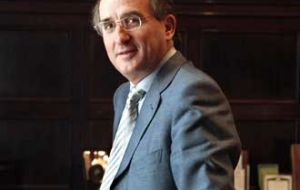 Spain's oil company Repsol plans to sell up to 3% of YPF on the Argentine market as part of a gradual divestment of its stake in that unit, according to company sources.
The sale, covering a maximum of 11.7 million shares, was approved by YPF's board of directors and will be carried out over the next several months if market conditions allow.
Argentina's Petersen Group, last week decided to exercise an option to purchase an additional 10% of YPF for 1.3 billion US dollars.
Following that transaction, Repsol currently holds a 58.23% stake in YPF, while the Petersen group owns 25.46%.
According to Antonio Brufau Repsol's CEO, the company's goal is to gradually divest its holdings in YPF yet keep control over the company by maintaining at least a 51% stake, the sources said.
As part of that strategy, the Spanish company has conducted several transactions over the past few weeks.
In March, it listed 6.67% of YPF on the New York Stock Exchange at a price of 41 US dollar per share; the offer was expanded to 7.67% of the company's stock because the banks underwriting the transaction were given the option to acquire nearly 4 million additional shares.
Earlier that same month, Repsol had sold a 3.83% stake in YPF to a group of investors led by Lazard Asset Management for 639 million USD.
Repsol acquired 98% of YPF in 1999 amid a wave of privatizations, but has since looked to reduce its holdings in the firm as it pursues better growth opportunities in other markets particularly Brazil's offshore resources.