YPF makes large shale oil discovery, equivalent to 6% of Argentina's reserves
Tuesday, May 10th 2011 - 22:38 UTC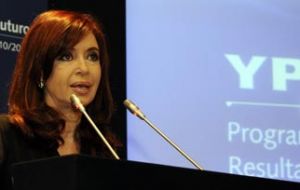 Argentine President Cristina Fernández de Kirchner announced on Tuesday that YPF energy company had made a large shale oil discovery in Neuquén province, a find that she considered to be of extreme importance, since "it will allow for us to maintain and further promote development" throughout the country.
The President explained that the discovery represents a 6% increase in Argentina's general oil reserves, while YPF explained that it's equivalent to 35% of its current crude reserves.
The discovery at YPF's Loma La Lata property in Neuquén province could eventually help put the brakes on falling oil production in Latin America's No. 3 economy, where energy demand is rising due to strong economic growth.
YPF Chief Executive Sebastian Eskenazi said the company had discovered 150 million barrels of potential resources.
"The important thing about this ... is the fact that this is new energy," he said in a televised speech.
Federal Planning Minister Julio De Vido said the discovery represented 8% of the country's total crude reserves.
YPF is planning the creation of 17 additional oil wells and fracture 14 already-existing ones, where oil will be extracted from through a non-conventional exploitation process.
This is the largest find since the discovery of Chihuido de la Sierra Negra in the late 80's, also located in Neuquén. According to the US Energy Information Administration, Argentina's proved petroleum reserves in 2009 totalled 2.62 billion barrels.
Argentina has been forced to import more fuel to meet its needs in recent years and critics blame government intervention in the market and political uncertainty for discouraging investment in exploration.
Tuesday's announcement comes months after YPF said it had found a huge deposit of unconventional natural gas that would be equivalent to a quarter of the country's proven reserves in the same region.
Soon after the local find, a US Department of Energy report meanwhile showed that Argentina holds more natural gas trapped in shale rock than all of Europe does -- a 774-trillion-cubic-feet bounty that could transform the outlook for Western Hemisphere supply.