Killing of bank guard unveils Uruguay's dilemma with expanding insecurity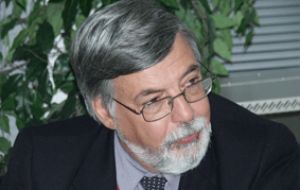 Activities in Uruguay's private bank branches were partially altered Thursday following the killing earlier in the week of a security guard during a robbery attempt. This was the seventh bank robbery since the beginning of the year and triggered a controversy between the banks and the Ministry of Interior.

The Ministry blamed banks for the incident arguing that they have not done enough in following security recommendations in branches and announced a decree making it mandatory for private security guards to be equipped with bullet resistant vests. The security guard was twice shot in the chest.

However the controversy involving banks and betting and payment houses, which have suffered a spate of robberies goes beyond and involves an overall feeling among public opinion of insecurity that has the Uruguayan government on the defensive.

Betting and payment house with cashiers protected by bullet proof glass casing have been attacked with sledgehammers and on occasions robbers have been successful.

Last Sunday and Monday public transport in Montevideo was limited to protest the killing of a taxi driver Sunday early morning, and a general sense of panic took over when a group of some of the most dangerous minors, several of them with blood crimes managed to once again escape.

The Uruguayan police have long complained there's not much they can do regarding minors, given the 'leniency' of magistrates and reclusion conditions with repeated escapes, plus the fact that under Uruguayan legislation the benefit of the doubt regarding incidents favours minors.

The opposition took advantage of the situation and is collecting signatures to force a referendum on lowering the minors' age from 18 to 16. Only started a few weeks ago, an estimated 150.000 Uruguayans allegedly support the initiative with their signature.

Even when the referendum can only legally be put to a vote in 2014, the impact has been tremendous: political parties have been slow to react and particularly the ruling coalition is divided on the issue.

The Broad Front or Progressive Front catch-all coalition from former radical and guerrilla groups, plus communists to Christian democrats are basically split among 'fundamentalists' and pragmatics.

The first adhere unconditionally to principles and rights easily proclaimed and demanded when in the opposition but when in government another view is needed if voters are to be kept content and not exposed to daily violence.

The government of President Jose Mujica has reacted with massive random police search operations in settlements along the ring of slums that surround the city of Montevideo. (An estimated 25% of Montevideo residents live in slums or irregular settlements in illegally occupied land).

Some of these operations have been described as 'rough'; others have been partially successful since tens of suspects arrested although most were later let free by magistrates; and some plain candid (dumb) since they were announced on television by an anxious government or had the special forces supported by a helicopter giving time for suspects to vanish.

A majority of public opinion, including settlement dwellers seems to support the initiative but the main criticisms come from inside the ruling coalition and from some magistrates and prosecutors that question the legality of such incursions. Human rights groups consider these operations similar to the 'razzias' which were organized by the military dictatorship in the seventies and early eighties.

Interior minister Eduardo Bonomi has defended the latest police actions arguing that back in 2002 it was understandable that people committed crimes "to obtain money for food". Unemployment then was above 20% and the Uruguayan economy following the collapse of Argentina, contracted 25%.

But now with 'more than full employment', a booming economy "youngsters are robbing and mugging to buy expensive running shoes (Nike, Puma, Reebok, Adidas, etc) and cellular phones, and refusing to take jobs with starting salaries of 8.000 pesos (equivalent to 400 US dollars)", said Bonomi.

"I think we have a new generation of 'lumpen-consumers' and we will combat them both with police action but also with social plans to integrate them", pointed out Bonomi. He said looking to the future "we must improve our education system to promote trades and work habits".

"For the time being keeping the pressure and surprise factor has them busy on the run and with less time for committing crimes", added the minister.

Uruguay's success story of a booming economy with full employment has obviously changed Uruguayan public opinion priorities: now security figures top of the list and with ample television coverage of robberies, attacks and on occasion killings the government still has a long way to go before recovering the initiative and overcoming the insecurity factor dominant in public opinion.

In the meantime each day that goes by the number of signatures collected keeps building ignoring party lines and recommendations from political leaders.