US trade deals with Colombia, Panama and Korea could be approved 'by August'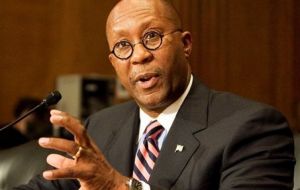 The United States free trade deals with Colombia, Panama and South Korea will pass through Congress by August if Republicans renew funding for the retraining of displaced workers, the chief U.S. trade official said Thursday.
Speaking at a House Agriculture Committee hearing, US Trade Representative Ron Kirk called on Congress to approve an expanded Trade Adjustment Assistance Program for the retraining of workers displaced due to foreign competition.
"We are asking Congress to approve TAA as they move forward with these other agreements," Kirk said, adding the deals then could be ratified "by August".
Kirk was responding to Republican lawmakers pushing hard for the exact timing of the presentation of the deals to Congress for deliberation.
Congressional Republicans have opposed the renewal of the program, which expired early this year, citing the need to cut the federal budget deficit.
Kirk's remarks are in line with House Speaker John Boehner, who has expressed his intention to have the three deals pass through Congress before the August recess.
The Obama administration last week began technical consultations with congressional staff members on the trade deals ahead of their official presentation to Congress.
Kirk has said he wants Congress to approve the Korea deal before July first, when a similar deal between South Korea and the European Union takes effect.
The Korea FTA, along with the Colombia and Panama deals, were negotiated under the Trade Promotion Authority Act of 2002, which requires Congress to vote yes or no without amendments within 90 days of the deal's submission.
The Obama administration has in recent months cleared obstacles to the congressional approval of the three trade deals.
Last month, Washington reached a new deal with Colombia on labor rights, which have served as a stumbling block to congressional approval of the trade agreement, and another with Panama to allow exchanges of tax information to prevent tax evasion. Panama is often criticized for serving as a tax haven.
Miriam Sapiro, deputy US trade representative, told a Senate Finance Committee Wednesday that the exact timing for the deals' submission depends on discussions with Congress.
"There are discussions ongoing about the exact sequencing and scheduling, of being able to accomplish all of our trade initiatives this year and we look forward to that discussion continuing and concluding as soon as possible," she said.