French minister finds 'strong tension and difficulties' between Argentina and Brazil
Saturday, May 14th 2011 - 05:15 UTC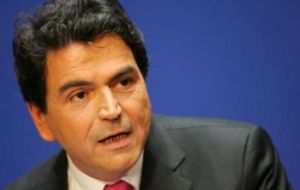 French Foreign Trade Secretary Pierre Lellouche said he had witnessed 'strong tensions' among Mercosur members during negotiations with the European Union for a free trade agreement.
"There are evident tensions and difficulties between the Argentine and Brazilian positions, particularly regarding beef", said Lellouche speaking from Brussels following the EU Foreign Trade Ministers Council meeting.
EU/Mercosur trade negotiations were included in the Council's agenda on request from several countries including France, Ireland, Belgium and Poland that are very concerned with the agriculture issue.
Lellouche said that during a recent visit to Brazil he was able to witness that "there are many questions marks regarding Mercosur future", nevertheless the EU is committed to increase trade with Latin America but "this will not come unconditionally".
"There are up-front interests in that market but also defensive interests", said Lellouche pointing out that France's meat sector could be exposed to negative effects from a trade agreement with Mercosur.
The French minister called for the opening of world trade, but cautioned it must be done "on the basis of fair regulations for all".
The European Commission is expected to release a report on the last round of EU/Mercosur negotiations held at the beginning of the month in Asunción, Paraguay, the fifth such round since talks resumed during last year's summit in Madrid, following a freeze since 2004.
So far none of the two sides, EU or Mercosur have put forward their proposals for market access, a most sensitive issue. However both delegations have agreed to continue addressing 'technical' issues until they are prepared for the exchange of proposals.
The EC also presented at the Council in Brussels the results of a report which reveals the negative impact for certain EU farm sectors of a full agreement with Mercosur and its alleged 'cheap imports'.
Farm cooperatives' lobbies have warned the EC that a free trade agreement with Mercosur will mean great losses for the beef sector, production and jobs, while the European Parliament echoing those concerns has requested no concessions be made in the negotiations that could be detrimental for farmers' living standards.