After shock in Japan force Honda Brazil to cut 400 jobs and halve production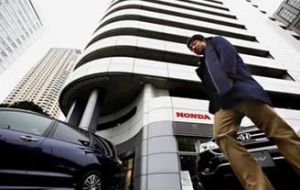 Japanese car maker Honda Motor Co on Wednesday said it will leave redundant 400 workers and halve production at a factory in Brazil beginning next month because of a shortage of parts from earthquake-affected plants in Japan.
Honda will cut production at the factory in Sumare, in the state of Sao Paulo, to 300 units per day, from the current 600 units, the company said in a statement. The Civic, City and Fit roll out from the Sumare plant.
Production shifts will fall to two from three, and the company has sent to unemployment insurance 400 employees, or about 12% of the workforce, it added. The company said it is examining alternatives for the other 800 employees affected by the reduction in shifts.
Honda said that suppliers of electronic components in Japan saw production hampered by the natural disasters which hit Japan in early March.
Honda said the decisions were made following talks with the Metal Workers union chapter in Campinas.
Last month Honda had anticipated its intention of reducing production and the possibility of advancing July's vacation period.
Besides Sumaré the Japanese company has three other plants in Brazil, one which makes motorbikes and two others for components and auto parts in a free trade zone of Manaos, capital of Amazon state.