Brazil creates Financial Stability Committee to reduce 'systemic risk' and support the currency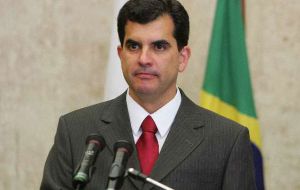 Brazil's Central Bank announced Wednesday the creation of a Financial Stability Committee to improve supervision of the nation's financial industry and reduce "systemic risk."
The committee will be composed of the entire eight-member Central Bank of Brazil board of directors, as voting members, the bank said in a written statement. Other central bank supervisors may be asked to join the committee, from time to time, as non-voting members.
According to the statement, "The creation of the committee represents an institutional improvement that will aid the central bank in complying with its mission of assuring stability for the purchasing power of the nation's currency and guaranteeing the solidity and efficiency of the financial system."
The committee's main purpose will be to define strategies for regulation and supervision of Brazil's financial system and to orient government agencies in implementing regulations. It will also commission studies and reports on the financial system.
Speaking after the announcement, Central bank directors Anthero Meirelles and Luiz Pereira said the new committee would function alongside the bank's monetary policy committee, Copom, to improve both monetary and financial stability in the country's economy.
"This panel will allow an institutional space so that discussions can advance on a permanent basis regarding stability management" Anthero Meirelles said.
The directors said the new group would serve to improve central bank analysis and monitor the stability of financial institutions, but was not especially aimed at creating new "macro-prudential measures" to complement the country's interest rate policies.
"The macro-prudential measures were introduced to mitigate risks in the area of credit, and the committee doesn't have anything to do with adoption of macro-prudential measures" Anthero Meirelles said. "But, obviously once we improve our capacity for analysis, decisions related to financial system supervision might be improved upon."
Brazil's central bank in December introduced local credit policy restrictions it called "macro-prudential measures" as part of an effort to help curb excess credit in the local economy and subsequent inflation pressure.