Brazil's purchase of 36 fighter jets will be made in 2012 says Rousseff
Thursday, May 19th 2011 - 07:16 UTC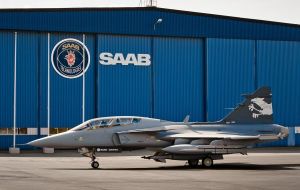 Brazilian President Dilma Rousseff revealed this week that the purchase of 36 fighter jets for the country's Air Force and involving billions of dollars but which has been postponed for years will be made in 2012.
The news filtered following a meeting of the Brazilian President with visiting Prime Minister Fredrik Reinfeldt from Sweden, one of the three countries that have expressed an interest in the contract.
Sweden is offering its Grippen jets fighters along with France and its Dassault Rafale and the United States F-18 Super Hornet.
The decision has been dragging since the previous administration. Under the terms of the contract the purchase of the aircraft must involve a significant technology transfer component including assembling some of the units in Brazil.
Prime Minister Reinfeldt is the last of several strong direct lobbying attempts by the three countries involved: President Nicholas Sarkozy has sold submarines to the Brazilian navy and has promised to help build a nuclear powered submersible in Brazil. He enjoyed a very close relation with previous president Lula da Silva.
Earlier this year President Barack Obama visited Brazil and brought up the issue of the F-18 Super Hornet and softened the offer regarding technology transfer.
PM Reinfeldt and Ms Rousseff also talked about boosting bilateral trade relations and the coming world climate summit scheduled to take place in Rio do Janeiro next year.
Trade between Brazil and Sweden reached two billion U.S. dollars in 2010. During the first quarter of 2011 Brazilian exports to Sweden increased 21% while imports soared 30%.