Ecuador's Correa wins vote for judicial and media reforms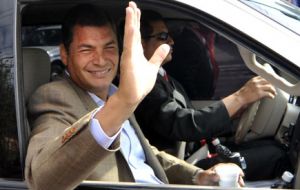 President Rafael Correa won Ecuador's vote on judicial and media reforms, but by a smaller margin than forecast, near-final results showed on Wednesday evening.
Though the outcome will give breathing air to the opposition the result means Correa can still press ahead with a shake-p of courts and other changes likely to increase his power.
The painstakingly slow vote-tally after the May 7 plebiscite showed that with 99.33% of ballots counted, Correa's "Yes" campaign had won all the questions, with an average of 47.1%. The 'No' campaign average of 1% surprised the opposition which never expected such an encouraging result.
Correa had already declared victory after the vote when polls and a quick count gave him a much bigger lead in the referendum on ten reforms.
Correa says the reforms are needed to get rid of corrupt and inefficient judges and let police fight crime better -- a huge concern in the Andean country of 14 million people.
Opposition leaders say the reforms are a power grab and fear Correa will appoint allies to top courts. They say a proposal to create a media watchdog threatens freedom of expression.
The charismatic 48-year-old economist has won a string of votes to increase executive power since taking power in 2007, prompting critics to cast him as the latest in Latin America's history of authoritarian leaders or "caudillos."
Correa has also boosted state spending on roads, schools and hospitals, making him very popular among the poor majority. His popularity levels remain above 55%.