Falklands' oil exploration companies expand early 2012 drilling program
Friday, May 20th 2011 - 01:07 UTC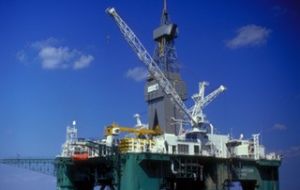 Borders & Southern Petroleum has extended a contract for exploratory drilling in Falkland Islands waters to include at least another two wells, it was announced on Thursday by parties involved.
DryShips Inc, a Greek dry cargo transporter and oil driller, said its drilling unit won additional contract days for one of its rigs from Borders and Southern Petroleum, taking the total contract value to 126 million US dollars.
Earlier this month, the company secured a 90-day contract for Leiv Eiriksson rig from British explorer and producer Borders and Southern Plc for drilling offshore the Falkland Islands.
DryShips said Borders & Southern have declared two optional wells under the existing drilling contract for the harsh environment semi-submersible drilling rig Leiv Eiriksson, owned by its unit Ocean Rig UDW.
The Leiv Eiriksson was completed in 2001 as a fifth-generation semi-submersible drilling unit built to the Bingo 9000 design. The hull was constructed at Dalian New Shipyard in China, with outfitting in the US by Friede Goldman Offshore.
Under the original contract penned after Borders signed a heads of agreement with Falkland Oil & Gas earlier this year, the rig was due to drill two wells over the course of 90 days for 80 million USD.
The original contract had left Borders with options over three wells.
The Leiv Eiriksson is currently en route to Greenland where it will conduct drilling operations for UK independent Cairn Energy this summer. It is expected to arrive off the Falklands in October with the first well spud pencilled in for the first quarter next year.
Borders wrote in an announcement: "Under the terms of the assignment agreement [it and Falkland Oil & Gas] will share mobilisation and demobilisation costs for the rig along with ancillary equipment and services".
In its own stock exchange filing Thursday, AIM-listed Falkland Oil & Gas wrote: "The company is currently funded for a deep well on Loligo, a prospect within the Tertiary Channel play...The well will have an estimated duration of 50 days.
"Based on its latest cost estimates and assumptions, the company also has sufficient funds for a second well on either Loligo (as an appraisal well), or on one of the other high ranked prospects such as Nimrod, Vinson or Inflexible."
Alternatively the company may choose to drill its second well on one of the deeper mid-Cretaceous prospects such as Scotia.
"Such a well would involve additional cost due to its greater total depth and the company continues to explore options to provide additional financial flexibility around its drilling options," it continued.
"In particular, the company would look to fund this additional cost principally via a farm out and it is currently in discussion with several parties who have expressed an interest in participating in our exploration drilling program".
The Leiv Eiriksson was recently the focus of a sabotage attempt by Greenpeace activists in Turkey who were protesting over Cairn's drilling plans in the Arctic.