Brazilian auto workers on strike demanding improved profit-sharing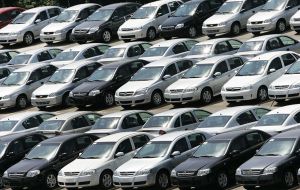 Brazilian workers at a factory operated by the local unit of U.S. auto maker General Motors Co. walked off the job Friday, calling a 24-hour strike to protest the company's latest profit-sharing offer.
First- and second-shift workers at GM's plant in Sao Jose dos Campos in Sao Paulo state voted unanimously to approve the strike after they rejected GM's proposal, according to a statement posted on the union's Web site. The walkout at the plant will cost GM production of 950 vehicles at the plant, which produces about 400,000 vehicles a year, the union said.
"GM is living its best moment, with consecutive records of production," said Vivaldo Moreira Araujo, president of the Sindicato dos Metalurgicos de Sao Jose dos Campos. "Today's strike was only the first step."
In a statement, GM officials said they offered increases "substantially higher" than 2010. Despite the strike, the auto maker said that it remained "open to constructive dialogue" with the union.
Brazil is a key overseas market for GM, with the company planning to invest 2 billion Brazilian Real (1.25 billion USD) in its local operations this year, double the one billion Real invested in 2010. The investments, fully financed by the Brazilian unit, are part of the company's plan to invest a bit more than 5.0 billion Real in the 2008-12 period.
The investments will go toward expanding and updating GM operations, which currently sell about 650,000 cars in Brazil, the world's fourth-biggest car market. GM is the third-largest auto maker in Brazil. Its main competitors in the local market are Fiat, Volkswagen and Ford Motor in first, second and fourth place, respectively.