US processor building 180.000 tons storage grain terminal in Uruguay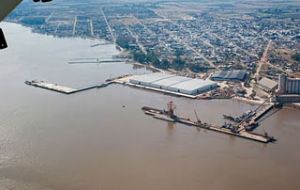 US agricultural processor Archer Daniels Midland Co said this week it was building a grain export terminal in Nueva Palmira, Uruguay, capable of loading large bulk shipments of corn, wheat, soybeans and soy-meal.
Construction will begin immediately and the project was expected to be finished in 22 months, Decatur, Illinois-based ADM said in a release.
The terminal at the mouth of the Uruguay River and the River Plate will include 180,000 tons of storage capacity and is expected to have an annual loading capacity of 2.8 million tons in its first year of operation, it said.
The facility, located in a specialized trading zone known as Zona Franca, will be able to load post-panamax vessels and cape-size vessels, which can carry more than 100,000 tons at a time.
The terminal will help to link South American production inland areas such as Paraguay, Bolivia, plus Uruguay and Brazil to markets in Europe, Asia, Africa and Latin America, ADM said
"ADM continues to invest in South America as we expand the size and reach of our processing and transportation operations in the world's key agricultural regions," said Domingo Lastra, president of Archer Daniels Midland South America.
Global supplies of corn, wheat and soybeans remain at historically low levels because growing demand is outstripping supplies. Prices for all three grains have risen this year, nearly doubling in the case of corn and wheat.
Nueva Palmira has become Uruguay's main grains and oilseed exporting port.