Uruguay ratifies "continental solidarity" in the Falklands/Malvinas dispute
Monday, May 23rd 2011 - 00:58 UTC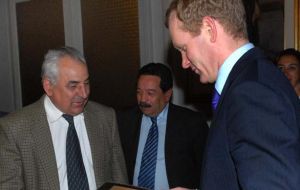 Uruguay ratified to visiting UK Foreign Minister for Latin America Jeremy Browne, Montevideo's "continental solidarity" policy with Argentina regarding the Falklands/Malvinas dispute but also described relations with the UK as "extremely cordial".
Defence minister Luis Rosadilla told Browne that his ministry together with Foreign Affairs were working on a procedure protocol regarding port and air coverage for British vessels or aircraft as a consequence of the ongoing Falklands/Malvinas dispute and given recent experiences.
Last September HMS Gloucester en route to the Falkland Islands at last moment was denied access to the port of Montevideo, in spite of having received a week before clearance.
Strong pressure from Argentina forced the change and the Uruguayan president Jose Mujica apologized to the British embassy in Montevideo, saying that good relations with Argentina are "top priority" for Uruguayan foreign policy.
Rosadilla said the idea was to address the issue "case by case" taking into account the "continental solidarity" with Argentina but nevertheless relations with the UK are "extremely cordial" and Uruguay is pleased that the UK is again showing a growing interest in Mercosur, Latin America and the region.
Browne and Rosadilla also spoke about the close links between Uruguay and the UK in defence issues and the multiple opportunities for Uruguayan military personnel to train and specialize in Britain, "an area that both countries are interested in expanding given the positive results so far".
Rosadilla advanced that once Unasur Defence Council round of regional agreements is finalized, it is the purpose of the Council to begin working on defence accords with the UK, among several countries.
Previous to meeting with Rosadilla, Browne held meetings with Vice President Danilo Astori and acting Foreign Affairs minister Roberto Conde.
With Vice-president Astori talks involved UK's interest in a technology development agreement and financial affairs. Both leaders agreed on full support for the current Mercosur/EU trade negotiations underlining the significance of free trade and market access for Mercosur agriculture produce.
Browne congratulated Astori for the bicentenary of the Uruguayan independence process and presented him with a reproduction of a painting "Mare Liberum" by Uruguayan artist Jose Luis Zorrilla de San Martin which depicts the signing of the Trade Treaty with Britain in 1817 when Uruguay was still trying to consolidate its independence from its powerful neighbours.
"Uruguay and UK have a historic and still vibrant relationship. We must finds way to make British investments more dynamic and recover the close trade links" said Browne who also praised Uruguay's contribution to the UN and international affairs in such vital areas as human rights and peace keeping operations.
Borwne said the UK had a special interest in Uruguay's Public-Private Partnerships scheme for infrastructure development currently under discussion in parliament and offered British experience and know-how in the issue.
Acting Foreign Affairs minister Conde said Uruguay was pleased that UK is turning towards Latin America after decades of concentrating efforts in other countries and regions.
"Foreign Affairs minister Luis Almagro visit to the UK last March marked an inflection point in bilateral relations, and the visit of Minister Browne confirms the close historic links between both countries", said Conde.
He added that Uruguay and UK should explore close dialogue possibilities in the big global issues such as climate change, environments, world economy and reforms to the multilateral system.
The possibility of close links and an agreement between the London and Montevideo stock exchanges was considered as a means for Uruguayan stocks and other financial instruments to reach a global market.
Following the meeting with Conde Browne gave a lecture to diplomacy students and diplomatic staff at the Ministry's training school emphasizing the importance of diplomatic links and UK's interest in recovering its political standing and close trade links with Latin American growing economies.
In the evening, the UK Ambassador hosted a reception where the Minister, who has Foreign Office responsibility for London 2012, met Uruguayan Minister of Sport, and the Uruguayan Olympic and Paralympic Committees. He presented memorabilia to the Uruguayan under-20 football team and swimmer Gabriel Melconián, who have qualified for London 2012.
Browne, a keen football fan also made time to visit Uruguay's National Football Museum, where he donated to the collection a shirt and photographs signed by Geoff Hurst, who scored a unique place in the history of football when he became the first player to secure a hat trick in a World Cup Final in 1966.
The museum is located in the Centenary Stadium which hosted the first World Cup in 1930 and was won by Uruguay defeating Argentina in the final game 4-2.