Ban Ki Moon to visit Uruguay that will hold UN Human Rights Council presidency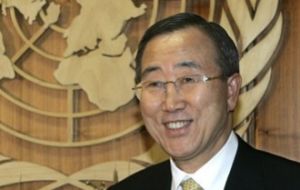 Uruguay will be holding next month the presidency of the UN Human Rights Council during 2011/2012 and for this motive UN Secretary General Ban Ki-moon is scheduled to visit Uruguay June 16th when he will be meeting President Jose Mujica and other top officials.
"Uruguay has been a member of the council seen it was created in 2006" by the UN General Assembly and has had "a standing attitude of active collaboration with the Council, having occupied one of the vice-presidencies and having participated in all work instances", according to Uruguayan diplomatic sources in Montevideo.
Foreign Affairs minister Luis Almagro said that for Uruguay "such a distinction honours the country's long established tradition and dedication to the full abidance of International Law and its commitment with the international system of protection of human rights".
Minister Almagro said that one of the issues Ban Ki Moon and Mujica will be addressing refers to Uruguay's participation in different peace missions such as in Haiti, Congo and Kashmir. Uruguay is one of countries which most staff and observers as percentage of population contributes to peace keeping operations under UN command.
Uruguay also has military personnel stationed in the Sinai, belonging to he Multinational Force and Observers as part of the Israel-Egypt peace treaty following on the 1979 Camp David accord.
The UNHR council has 47 seats. The term of each seat is three years, and no member may occupy a seat for more than two consecutive terms. The seats are distributed among the UN regional groups as follows: 13 for Africa, 13 for Asia, six for Eastern Europe, eight for Latin America and the Caribbean, and seven for the Western European and Others Group.
The Latin American group for the 2011/2012 period includes Uruguay, Cuba, Ecuador, Guatemala, Mexico, Costa Rica, Chile and Peru.
The General Assembly can suspend the rights and privileges of any Council member that it decides has persistently committed gross and systematic violations of human rights during its term of membership. The suspension process requires a two-thirds majority vote by the General Assembly.
The resolution establishing the UNHRC states that "members elected to the Council shall uphold the highest standards in the promotion and protection of human rights."