Brazil/Argentina relations not contaminated by trade spat, in spite of industry worries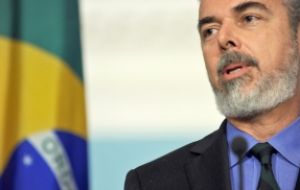 Robert da Fonseca, director of the Sao Paolo Industry Federation, FIESP admitted on Friday that Brazilian businessmen are "worried" with the commercial conflict that Argentina and Brazil face.
However on the political front Brazilian Foreign Affairs minister Antonio Patriota said the trade spat has "not contaminated bilateral relations" which remain as close as usual.
The focal point is the fact that a "positive climate" is absent in both countries industrialists following on the reciprocal restrictions imposed on bilateral trade, according to Fonseca.
"If we followed the free trade agreement (of Mercosur) with more certainty, these conflicts would not exist. The issue is that that agreement is not being played out as it should be," Fonseca explained during a radio interview.
The Brazilian businessman also indicated that his country's industrialists "remain worried, because the restrictions are still risking damaging bilateral trade between our two countries. This is not a good climate to have, especially when there is a customs union agreement."
The differences between Argentina and Brazil began two weeks ago when Brazil slapped non-automatic licenses on car and auto part imports, which affected terminals in Argentina. The measure was seen as a Brazilian retaliation to similar barriers imposed by Argentina to different Brazilian items with the purpose of supporting domestic production.
The administration of President Cristina Fernandez de Kirchner is promoting a 'reindustrialization' process which is based on imports' substitutions, protecting the domestic market from excessive imports and ensuring jobs are not lost.
But in spite of the apparent scepticism in business circles, Brazil's Foreign Affairs minister Patriota even admitting an impasse in bilateral trade conditions with Argentina, insisted relations between the two countries "have not been contaminated".
"These things are natural between two partners with significant trade volumes, because there are always specific points which surface", said Minister Patriota speaking from Itamaraty Palace. "This kind of conflicts also occurs between the European Union and the United States", he added.
Patriota revealed he had been on the line with his Argentine peer, Hector Timerman to discuss the Honduras situation and its re-incorporation to OAS, the Organization of American States. Honduras was suspended from OAS following the ousting of elected president Manuel Zelaya.
The Brazilian minister added that during meetings held in Buenos Aires, Brazil's Industry minister Alessandro Texeira and his Argentine counterpart Eduardo Bianchi agreed to hold regular monthly meetings to discuss trade impediments and "I believe talks are scheduled to continue in two weeks time in Brasília".