Lagarde too committed to the Euro to be nominated IMF chief, says top economist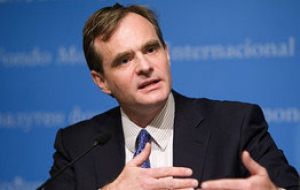 Finance Minister Christine Lagarde is the wrong choice to head the International Monetary Fund as it gets deeper into the Euro-zone rescue, a former IMF chief economist said this week.
"Ms. Lagarde is explicitly being put forward as someone who can represent the interests of the Euro zone -- at a time when the Euro zone needs help," said Simon Johnson on his blog "The Baseline Scenario".
"There is major design flaw in the Euro zone and Ms. Lagarde is the last person that non-European governments should want to put in charge of helping sort that out," he said.
Mr Johnson, a professor at the Massachusetts Institute of Technology who served as IMF chief economist in 2007-2008, said financially devastated Greece, Ireland and Portugal represent the "design flaw" and that it demands a difficult strategic response.
"The Euro zone leadership needs to make a choice," he said.
"Do they integrate more, including with generous fiscal transfers to poorer, less dynamic member countries, where people do not like to pay taxes; or do they ease some countries out of the integrated financial system, creating two tiers of participation in the euro currency area -- in which some Euro zone countries cannot borrow from the European Central Bank?"
Either way, the IMF is likely to have an important role, with advice and "a lot of money" -- money, he reminded, that belongs to the international community.
He said Ms Lagarde, in her recent leading role of defending the Euro zone, "personifies the strategy of gambling for Euro zone resurrection with other people's money.
"Why would taxpayers in US and elsewhere want to support her on this basis?"
Mr Johnson acknowledged that Lagarde probably already has enough support to become IMF managing director after the resignation of her French colleague Dominique Strauss-Kahn to deal with sexual assault allegations in New York.
But as IMF chief, he said, "she will most likely continue to throw loans at the Euro zone problems," -- referring to the possibility of preventive loan facilities for Spain, Italy, or Belgium.
That, he said, could require the IMF to tap its shareholders for "at least another $1 trillion" in credit lines.