Real estate operations in Punta del Este reached 2.25 billion USD in 12 months
Friday, May 27th 2011 - 08:48 UTC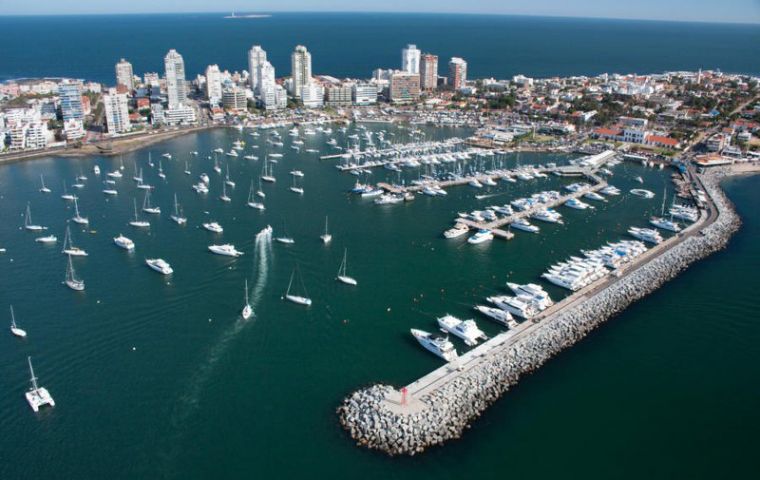 Real estate operations in Uruguay's hottest resort and leisure farms' area totalled 2.55 billion US dollars in the twelve months to April 2011, equivalent to daily deals involving 7 million USD.
The renowned Atlantic resort of Punta del Este concentrated most deals in the twelve months span with 1.16 billion USD (45% of the total) with a 90 million USD peak in March 2011 and the lowest in May 2010, with 39 million USD, according to the land registry from the county of Maldonado, 140 kilometres east of the Uruguayan capital Montevideo.
Second place was for "tourist or leisure farms", and urbanizations in the surrounding area of Punta del Este totalling 428 million USD (16.8%). This was followed by transactions in the county's capital Maldonado involving 397 million USD (15.6%) and finally 81 million USD (3.2%) in the exclusive La Barra resort.
These numbers give an idea of the strength of the real estate market and the construction industry in Punta del Este, traditionally the summer resort for the Argentine rich and famous, and increasingly attractive for high bracket Brazilians wanting to spend time in a secure environment and far away from the stressing Sao Paulo activities.
Another interesting point revealed by a report from Maldonado city council notaries department is that areas long considered depressed or occupied by intruders have also become attractive for investors.
Such is the case of the Maldonado horse race course in the city of Maldonado and with an illegal settlement next to a lake (Laguna del Sauce) where sales reached 1.8 million and 7 million US dollars in the twelve month period.
The small sleepy seaside resort of Buenos Aires, 30 kilometres east of Punta del Este, has also reported deals totalling 24 million USD.
Under Uruguayan law all real estate operations must first be reported to the regional Land registries since counties have 'first choice pick' or preference, in those areas so established by the local governments for the purpose of an adequate urban and rural planning.