Tough prospects for Japan: car output down; credit rating lowered and recession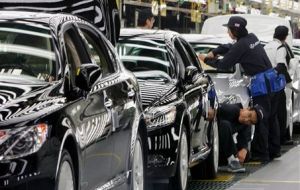 A complicated week for Japan: car production in April plunged as manufacturers continue to face a shortfall in parts supply and credit rating agencies downgraded the outlook on the country's debt to negative from stable.

However a bright spot for the country plagued with ongoing fears of deflation, in April for the first time in two years prices rose 0.6% from a year earlier according to the Statistics bureau.

Toyota, the world's biggest carmaker said its domestic production fell 74.5%, compared with the same month last year. Honda's Japanese output plummeted 81%, while Nissan reported a 48.7% decline at its factories in Japan.

Japan's carmakers have been facing a shortage of parts as the 11 March earthquake and tsunami disrupted the country's supply chain.

The effects of the disruption in Japan's supply chain have been felt well beyond the country's shores. Leading Japanese carmakers have reported a sharp drop in their global production numbers as well.

Meantime credit ratings agency Fitch downgraded its outlook on Japan's debt to negative from stable. Fitch said it was worried about the high levels of Japanese government debt.

"Japan's sovereign credit-worthiness is under negative pressure from rising government indebtedness," said Andrew Colquhoun of Fitch. "A stronger fiscal consolidation strategy is necessary to buffer the sustainability of the public finances against the adverse structural trend of population ageing."

In January this year, rating agency Standard & Poor's downgraded Japan's credit rating from AA to AA-, also citing Japan's worsening debt situation for the move.

Finally for the first time in two years deflation was defeated as fuel imports surged following the earthquake and tsunami. Consumer prices rose by 0.6% in April, from a year earlier, according to the Statistics Bureau. Japan has been battling deflation or contracting prices for more than a decade.

Deflation leads to companies and most consumers putting off purchases, in hopes that prices will continue to fall. The April data is unlikely to reverse that trend, because the gains came largely from higher fuel prices.

The 11 March earthquake and tsunami left more than 24,000 people dead or missing but also destroyed some of Japan's ability to generate electricity. The country has been importing large amounts of fuel in order to make up the difference.

Japan's economy, the world's third largest, has slid back into recession after the devastation caused by the earthquake and tsunami. GDP shrank 0.9% in the first three months of the year. Japan's economy has now contracted for two quarters in a row, the generally accepted definition of a recession.