President Rousseff's visit to Uruguay according to the Sao Paulo media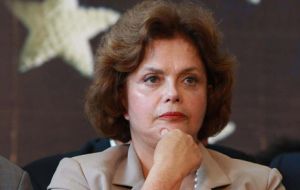 President Dilma Rousseff's Monday visit to Uruguay will try to ease growing concerns in South America's smallest country political and economic circles about "Brazil-dependency" and obstacles to bilateral trade, according to reports in the Sao Paulo media previous to her departure.
Folha de Sao Paulo specifically underlines that the visit will also be like "returning to the past" for President Rousseff, a former guerrilla militant that while a student underwent shooting practice and intelligence training along the border with Uruguay together with the country's urban guerrillas Tupamaros, one of whose leaders was how is now President Jose Mujica.
The four times delayed visits to Uruguay have caused great expectations in Uruguay not only because of the recent 17 non automatic licences on imports that the Rousseff administration has begun implementing but because Brazil has become Uruguay's main market for its exports, particularly manufactured goods, and its leading supplier.
Bilateral trade, relatively balanced, was over 3 billion US dollars last year, with a 19.4% increase compared to 2009.
The Brazilian media points out that several initiatives to be discussed by Rousseff and Mujica are geared to calm some sectors of Uruguayan public opinion concerned with the growing offensive from Brazilian businesses in recent years making Uruguay increasingly "Brazil-dependent".
Brazilian interests have taken control of the majority of abattoirs licensed to sell beef to some of the most demanding markets (US, EU, Asia); other areas targeted have been the rice industry, iron recycling and for construction plus a significant presence in other manufacturing sectors, banking, fuels and oil exploration and services.
Brazil is proposing with several major infrastructure projects (bi-national bridge, linking the two railway systems, a power line connected to the Brazilian grid and a water way along the border) a greater integration of the north of Uruguay with the south of the Rio Grande do Sul state.
Another area of interest is cooperation in technology and innovation which includes the mounting of labs for digital television and interactive appliances, particularly since President Mujica last year opted for the Japanese-Brazilian digital television system ignoring a previous agreement with the European norm.
"Brazilian foreign affairs sources have anticipated that the administration of President Rousseff wants to thank Mujica's digital TV decision with cooperation in other fields such as health, security, science and education", reports the Sao Paulo media.
The Brazilian delegation is also expected to help Uruguay sell its record rice crop outside the Mercosur area since an abundant harvest in all the group's members is threatening prices and the Brazilian farm lobby have warned they will block incoming trucks loaded with the cereal.
Finally Folha de Sao Paulo underlines that President Rousseff's visit to Uruguay is like "a return to part of her past", since with President Mujica, (one of the leaders of the Tupamaros) not only does she share having belonged to guerrilla groups in the late sixties and seventies: as a young student in her early twenties Rousseff was in Uruguay for (clandestine) shooting practice and intelligence training.
In an interview with Folha de Sao Paulo last year, "Dilma described some of the exercises and trainings that took place in the country of Mujica".

"Usually a big farm along the Uruguayan-Brazilian border area was chosen and with a small group of people: in my case never more than five or six. I never was a sharp shooter but yes a good shooter. Training was rather simple: I was good at assembling and disassembling weapons and we also had intelligence training such as how to avoid being followed", said Ms Rousseff.
The article ends recalling that also in 2010 Mujica was asked about the Brazilian election and he replied that "I kind of like ladies in office". "Now victorious the preferred lady of Mujica returns to Uruguay".