Brazil plans massive infrastructure investment in next four years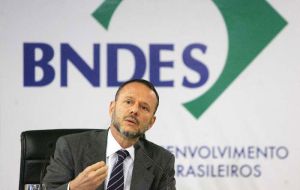 Brazil' president of the Economic and Development Bank, BNDES, Luciano Coutinho said that the country's investment rate in the coming four years will be equivalent to 23% of GDP, sufficient to ensure a sustained robust long term growth of Latin America's largest economy.
Coutinho said that such a percentage of GDP invested will be equivalent to 2 trillion US dollars which is to be allocated in industrial projects, infrastructure and other plans mapped out by BNDES.
The president of the bank also identified some of the relevant sectors that will experience the sustained investment expansion in the next years. Coutinho specifically named the oil and gas production chain (development of the pre-salt hydrocarbon reserves); electricity and power logistics plus building new ports, expanding existing ones and recovering the railways system.
Coutinho also revealed that so far this year a significant percentage of funds demand normally served by BNDES have been provided by private banks, which has meant that the bank's outlays will be in the range of 145 billion Real (90 billion USD) below the original estimate of 170 billion Real (106bn USD).
Brazil since the implementation of the Real stabilization plan has been growing sustainedly, has become one of the world's seven leading economies and is hosting the World Cup in 2014 and the Olympics in 2016.
However investment in infrastructure has lagged and the country faces serious bottlenecks in highways, storage capacity, ports, railways and communication systems. This has become particularly evident in preparations for the World Cup which demands refurbished stadiums, airports and service facilities