Fiat was saved from collapse by sales in Latin America admits CEO Marchionne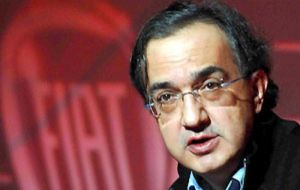 Fiat and Chrysler Group president Sergio Marchionne said on Monday that car sales in Latin America saved the corporation's balance sheet last year and announced an overall increase in car sale operations in accordance with regional demand.
"Latin America has been saving Fiat for over a year" said Marchionne during a visit to a Chrysler plant in the outskirts of Toronto.
"I can say that we are going to link growth to Fiat's position (which holds 46% of Chrysler) and increase production in the US and in Mexico", said the Fiat president in reference to Chrysler's presence in Latin America which is limited currently to Mexico.
"We are convinced we will experience a significant increase in Chrysler sales in Latin America precisely because of its association with Fiat", said Marchionne who anticipated the emphasis will be in the Jeep line, particularly 4X4 vehicles and the re-launching of traditional Dodge models but as Fiat, "for example the Fiat Freemont to be launched in Europe will also be arriving in Latin America".
Marchionne also anticipated that the group will be "extremely careful in the sequence of models it will begin to produce which will be much better adapted to the needs of Latin America".
"Fiat will act as a catalyser of that policy; we have to be most careful on presenting a solution which is tailored for Latin America", he underlined.
Marchionne toured the factory with Canada's finance minister Jim Flaherty thanking him for the massive loans granted to Chrysler during the US crisis at the end of 2008, beginning of 2009.
The Chrysler group announced last week it was returning the 7.6 billion US dollars extended by the governments of the US and Canada to prevent the collapse of the auto manufacturer in the midst of the worst crisis of the auto industry in North America since the Depression.
Fiat that already has a 46% stake of Chrysler announced it will be acquiring in the near future another 6.6% in the hands of the US government and which served as partial collateral for the funds loaned.
Fiat for years has retained the top spot in Brazil's auto market, which is among the world's fastest growing.