France reports 77 bodies have been recovered from the ocean bed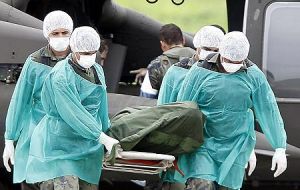 A total of 127 bodies have been recovered since the start of the search for the Air France Airbus A330 plane that crashed in the Atlantic in June 2009, a Brazilian association of the victims' families said on Tuesday.
The association said France's air accident investigation agency, the BEA, informed the relatives of the victims on Monday that the rescuers had recovered with special submersible control remote robots 77 additional bodies from the debris of the plane's fuselage after it was located in May at the depth of 3,900 meters.
The initial 50 bodies were recovered in the first weeks of search operations in the area 1.100 kilometres off the Brazilian coast.
BEA officials said they had enough information to establish the causes of the crash after finding the plane's flight recorders, and the main focus should be on recovering the remaining bodies of the passengers and the crew.
French Minister of State for Transport Thierry Mariani told reporters in mid-May that the causes of the crash would be determined as early as in June.
Air France Flight 447 en route from Rio de Janeiro to Paris plunged into the Atlantic on June 1, 2009, killing all 228 people on board. The crash was the worst in the airline's 75-year history, and the world's worst for almost a decade.