Gibraltar takes self determination case to Spain's toughest audience
Tuesday, May 31st 2011 - 22:49 UTC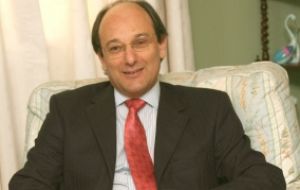 Gibraltar Government has taken the argument for Gibraltar and its finance centre to the toughest audience in Spain - the ABC newspaper readers.
A special 12 page supplement distributed with the newspaper is mainly focused on presenting Gibraltar's economy and investment opportunities to a financial audience.
The move is part of the Government's ongoing strategy to get Gibraltar's political message to a wide audience in Spain but also to highlight the scope for a symbiotic relationship.
The feature includes a two page interview with Chief Minister Peter Caruana who tells the ABC readers that he feels it is important to convey to them "that the people of Gibraltar deserve human rights, democratic rights and to live freely."
"We have lived for 300 years in a dispute and it would be a pity to live a further 300 years under the same political differences. It is inconceivable that in the 21st century one country and can impose a 'solution' on another. The resolution to the dispute must be found in a democratic way which means both sides need to achieve a consensus.
ABC is a right wing newspaper closely allied to the Franco regime which now enshrines nationalistic and conservative causes.