Strong tendency to lower inflation in coming months is forecasted in Brazil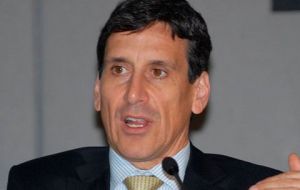 Brazil Central Bank head of Monetary Policy Aldo Mendes anticipated Monday that inflation in the coming two/three months will be almost flat, close to zero and supported his forecast on the food prices inflexion tendency.
"The tendency of food prices, the most volatile component, is accommodative", said Mendes who blamed food prices for the surge of inflation since the end of 2010 because of soaring commodities international prices.
There's a different dynamics now and this "has already blended with future expectations on inflation and analysts are anticipating lower rates than in previous months".
Mendes argued that the main instruments to contain inflation are precisely inflation and interest rates. The so called macro-prudential measures are additional tools and have the prime purpose of "controlling the credit market" with higher compulsory mechanisms.
"These measure also help to contain inflation", added Mendes who said that another target of the Central bank is "to limit families indebtedness" with measures such as making compulsory first instalment down payments with credit cards of 15% that will be elevated to 20% at the end of the year".
Confirming Mendes forecast the IGP-M inflation index, which is 60% weighted in raw materials, rose 0.43% in May, the Getulio Vargas Foundation announced Monday. That's the slowest since July, when prices rose 0.15%.
The IGP-M reading bolsters policy makers' claims that inflation may slow in the coming months to a level in line with the Central bank's 4.5% annual target, added the release. Wholesale prices, which have jumped 11.35% over the past year, rose 0.03% in May, led by a 28% decline in cotton prices.
Processed food prices slipped 0.74% in May, from an increase of 0.38% in April, according to the IGP-M report. The prices of oranges plunged 25%, cotton fell 28% and ethanol declined 3.6% in the month.
Still, demand pressures fuelled by near-full employment and rising wages continue to be a concern to economists.
Consumer prices rose 0.9% in May according to the IGP-M index, more than 0.78% gain in April, as fuel prices jumped 4.08%. Construction prices, which account for 10% of the index, jumped 2.03% on higher costs for bricklayers and engineers.
From a year ago, the IGP-M index rose 9.77%, less than the 10.60% posted in the year through April.