Brazil lawmakers comply with formality of approving Unasur charter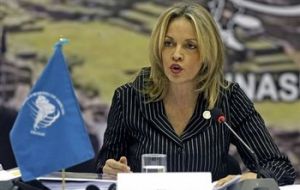 Brazil's Lower House passed on Tuesday the charter-treaty marking the foundation of the Union of South American Nations, Unasur, and the half approved bill now goes to consideration of the Senate.
The vote was symbolic and a similar formality is expected in the Senate since there is ample consensus and support for the proposal identified as Legislative/Decree 1669/2009.
Unasur the brainchild of Brazilian diplomacy to counter Washington's predominance in the region includes Argentina, Brazil, Bolivia, Colombia, Chile, Ecuador, Guyana, Peru, Paraguay, Surinam, Uruguay and Venezuela.
The Unasur Treaty became effective last March 11, during a ceremony in Ecuador, (seat of the organization) following Uruguay's ratification completing the nine nations needed for the approval of the initiative.
Following Brazil's vote, only Paraguay is pending approval of the charter-treaty.
Guyana currently holds the rotating chair of Unasur and former Colombian Foreign Affairs Minister Maria Emma Mejia is Secretary General group since last May 9. The two year mandate will be shared with Venezuela's Ali Rodriguez following a compromise that also reflects the reconciliation of the two neighbouring countries.
The first Secretary General of Unasur was former president Nestor Kirchner who died last October. Unasur was bore 23 May 2008 in Brasilia when Lula da Silva was president.