Mix of Belgian sacrifices and banks rolling over expiring bonds, proposal for Greece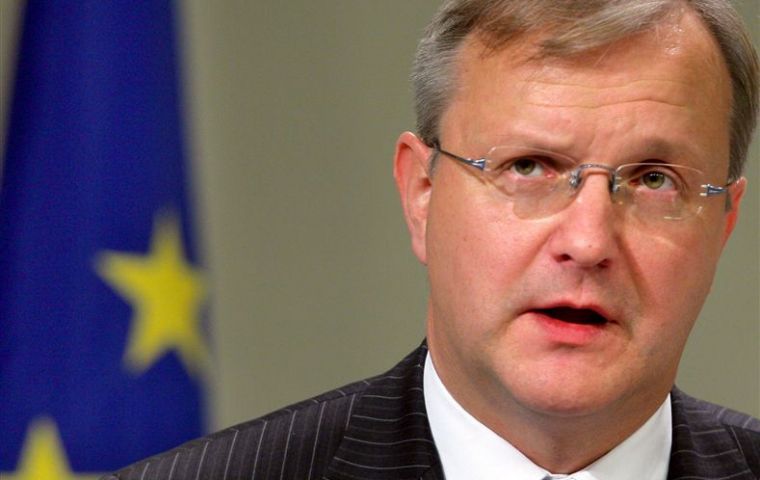 European Union's top economic official said a solution to keeping Greece solvent is combining bold deficit cuts reminiscent of Belgian sacrifices in the 1990s and willingness by lenders to roll over expiring bonds, adapting what was done in Eastern Europe two years ago.
"Belgium is a relevant example" in showing Greece what is "feasible and doable" in primary surplus goals, and the "Vienna initiative has mostly given us positive lessons," Olli Rehn, the EU economic and monetary affairs commissioner, said in an interview at Bloomberg headquarters in New York. "The basic idea would be that banks maintain their exposure on a voluntary basis."
Saddled with Europe's heaviest debt load, Greece is seeking additional loans after last year's 110 billion Euro European-led package was insufficient to plug its fiscal hole. Rehn said that while debt restructuring is "off the table" because of the domino effect on European markets, alternatives such as a Vienna-style fix and so-called re-profiling were being considered.
The Vienna-style plan would aim to persuade creditors to buy new bonds from the Greek government when existing ones mature. Greek 10-year bonds trade at less than 55 cents on the Euro, sign of investors' diminishing expectations of being repaid in full.

European politicians have given sometimes conflicting definitions of possibilities such as "restructuring," "re-profiling," "soft restructuring" and "default." French President Nicholas Sarkozy said that if "restructuring" means a failure to pay off debt, "then this word won't be part of the French vocabulary."
"It must be frustrating for the so-called market forces" to hear competing voices in the EU, Rehn said. As for policy makers, "we are learning the hard way."
Rehn suggested that the Vienna Initiative program, which arrested contagion in Eastern Europe, is one option that is gaining traction. The Vienna-inspired plan was a key plank in the IMF sponsored rescues of Hungary, Romania, Latvia and Serbia in 2009.
Under the plan European banks and main lenders in Eastern Europe, publicly pledged to keep their units in those countries afloat by rolling over funding and providing fresh capital if needed.
With their sights on the Euro in the 1990s, the Belgians had to axe their deficit to qualify for membership in the single currency and tackle their debt burden by undertaking sales of state-owned companies such as telecom monopoly Belgacom SA.
At the time of the 1992 Maastricht Treaty, which laid out the conditions for monetary union, Belgium's deficit had shot up to a record 8.4% of GDP. By the end of 1997, it was under the EU limit of 3% of GDP.
Under the terms of the rescue package, Greece was due to return to financial markets and sell about 30 billion Euros of bonds next year. With its 10-year bonds yielding 16.4%, more than twice that of the time of the bailout, the EU has indicated that Greece will need more aid to plug its financing gap. The IMF has threatened to withhold its share of the payments until the EU explains how Greece will be funded.
"We are seeing the Greek situation, by and large, eye to eye with the IMF," Rehn said. "We trust we will together draw a joint conclusion of the quarterly review in the coming days."
The EU and the IMF will have to put up an additional 30 billion Euros in loans to tide Greece over next year, with the rest of its 2012-2013 financing needs covered by revenue from asset sales and other measures, the Financial Times reported two days ago, citing ECB Executive Board member Lorenzo Bini Smaghi.
Greek Prime Minister George Papandreou has announced an additional 6 billion Euros of budget cuts for this year to meet the bailout goal of shrinking the deficit to 7.5% of GDP. The government also pledged to speed 50 billion Euros of asset sales, mostly real estate, to pay down debt, which is set to reach almost 160% of GDP this year, the highest in the Euro history.