Obama names businessman with impressive background new Commerce Secretary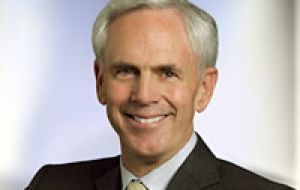 John Bryson from Kohlberg-Kravis-Roberts & Co and with an impressive business background has been nominated by President Barack Obama as next US Secretary of Commerce. He replaces Gary Locke but still must be confirmed by Congress.
If finally confirmed, the next Secretary of Commerce task will be to revive economic growth, double US exports and encourage business to hire more employees. Those are President Obama's marching orders for Bryson, 67, when he takes over from Gary Locke, who will be leaving for the post of U.S. Ambassador to China.
The US Chamber of Commerce was quick to say that as Commerce Secretary, Bryson must keep his department "focused like a laser beam on putting people back to work, expanding US exports and helping American businesses succeed in the 21st century".
They're all easier said than done - which may be why Mr. Obama was quick to joke about Bryson's qualifications for the job.
"Nothing has prepared him more for this demanding role -- a role that requires delicate diplomacy, complex negotiations, and careful management of folks with strong views -- than being the father of four daughters" said Mr. Obama, father of two daughters, in announcing his intention to nominate Bryson.
In choosing Bryson, Mr. Obama is reaching out to a businessman with a background that includes non-profits, government agencies, major corporations and most recently, membership on the Boards of Directors of Boeing and Walt Disney.
For nearly two decades until 2008, Bryson served as Chairman and CEO of Edison International, the electric power conglomerate that is parent company of Southern California Edison.
President Obama likes that Bryson has energy in his résumé, and a green background to boot as a co-founder of the Natural Resources Defence Council. California Governor Jerry Brown brought Bryson into government service as president of the California Public Utilities Commission and Chairman of the State Water Resources Council.
Search for the new Secretary of Commerce was the task for cabinet chief Bill Daley, a former member of JP Morgan Chase who held the same post under the administration of President Bill Clinton.