New York sues Federal government on natural gas drilling in Delaware river basin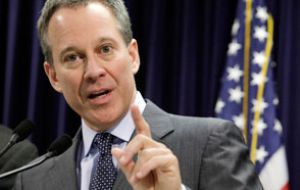 New York's attorney general is suing the federal government to compel a full environmental review of proposed regulations for natural gas drilling in the Delaware River Basin.
Eric Schneiderman says in the federal lawsuit filed Tuesday the welfare of those living in the basin and of millions of New Yorkers who rely on its drinking water must be thoroughly weighed.
He says the Delaware River Basin Commission with approval of federal agencies proposed regulations without doing a full review as required by law.
Gas is being extracted in the Marcellus Shale region underlying southern New York, New Jersey, Pennsylvania, eastern Ohio and West Virginia with a process called hydraulic fracturing, or fracking, which involves pumping water laced with chemicals and sand into the ground.
The Delaware River Basin Commission has proposed rules that would allow up to 18,000 gas wells within the basin including parts of New York City's watershed.
In the lawsuit against the U.S. Environmental Protection Agency and others, Schneiderman said those regulations should not even be considered until the environmental impact of the drilling has been studied.
"Before any decisions on drilling are made, it is our responsibility to follow the facts and understand the public health and safety effects posed by potential natural gas development" Schneiderman said in a statement.
Environmentalists say fracking can contaminate groundwater with dangerous chemicals, but the industry insists it is safe.
Schneiderman's lawsuit demands that a U.S. study consider risks including the "withdrawal of large volumes of water ... potential contamination of drinking water supplies, waste generation, increased noise, dust and air pollution, and potential harms to community infrastructure and character from increased industrial activity."
Fracking has helped unlock vast potential for a relatively clean energy source that would reduce US dependence on foreign oil. The Marcellus Shale, which underlies much of Pennsylvania and parts of surrounding states including western New York, could meet all US natural gas demand for decades.
But while Pennsylvania is experiencing a gas drilling boom with widespread fracking in the Marcellus Shale formation, New York State has been more cautious, saying the economic benefits must be weighed against environmental concerns.
In December, New York announced a moratorium on issuing permits for fracking, and the state Department of Environment Conservation is in the process of an environmental review.