Soaring imports push Uruguay's trade deficit in the first quarter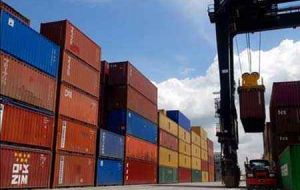 Uruguay's trade balance registered a deficit of 790 million US dollars in the first quarter of the year, according to the latest data from the central bank. Exports totalled 1.681 billion USD, up 30.5% over the previous year while imports totalled 2.470 billion USD, up 49.5%.
This means that the trade deficit during the first quarter of 2011 more than doubles that of the same period a year ago. This was causes mainly because of imports expanding at a faster pace that exports
Uruguay's main exports were soy, beef and rice. Among the country's main trade partners figure Brazil, the free zone of Nueva Palmira (from where most exports head for China and the EU), China, Argentina and Russia.
In March, exports totalled 564 million USD (up 18% over the same month a year ago) while imports, 989 million (up 27.6%) with a trade deficit of 379 million USD.