Deadly new strain of E.Coli has been detected in 12 countries, including US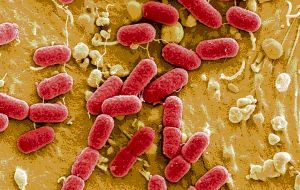 The deadly new strain of Shiga toxin-producing Escherichia coli (STEC) (E.coli) that is capable of spreading from person to person has now been detected in at least 12 countries, the World Health Organization said on Friday.
The bug has now been identified in people in the Czech Republic, France and the United States, adding to those in Germany, Austria, Denmark, Norway, the Netherlands, Spain, Sweden, Switzerland and the UK.
More than 1,600 people have been affected worldwide. All cases except two have been found in people from northern Germany or who have recently visited the area.
WHO describes the bacterium as a "completely new" mutant strain which was more toxic and infectious than usual varieties. It is resistant to antibiotics and has an eight-day incubation period, which means that the outbreak may not have reached a peak.
It can cause the deadly complication haemolytic-uraemic syndrome (HUS) which affects the blood and kidneys. Experts are still unable to say where the outbreak originated, having ruled out the initial theory that it came from a consignment of Spanish cucumbers.
E.coli is usually contracted by eating contaminated food, but it can spread from person to person if the strain is infectious enough. People must be particularly careful to wash their hands thoroughly after using the lavatory.
Hilde Kruse, a food safety expert at the WHO, said the strain had characteristics which made it "more virulent and toxin-producing". Preliminary genetic sequencing suggests that the strain is a new, mutant form of two different E.coli bacteria, according to the WHO.
"This is a unique strain that has never been isolated from patients before" Ms Kruse added.
Unlike previous outbreaks, this strain of E.coli mainly attacks women rather than children or elderly people. More than three quarters of those suffering from serious kidney problems are adult women.
Dr Alexander Mellmann, the scientist who mapped the DNA of the bacteria at the University of Munster in Germany said the bacteria had evolved to become more toxic and better at "sticking" to human cells, increasing the chance of infection.
Scientists believe the strain originated in animals such as cattle before spreading to vegetables and even possibly water. The HPA is advising people traveling to Germany to wash salads and to avoid eating raw tomatoes, cucumbers and leafy salads.
As of 2 June 2011, 520 cases of haemolytic uraemic syndrome (HUS) (11 fatal) and 1213 cases of enterohaemorrhagic Escherichia coli (EHEC) (6 fatal) have been reported by Germany, said WHO, taking the total in Germany to 1733 cases, including 17 fatal ones. This is an increase in Germany of 50 cases of HUS and 149 cases of EHEC between 31 May and 2 June 2011.
Globally, 552 cases of HUS (12 fatal) and 1271 cases of EHEC without HUS (6 fatal) have been officially reported as of 2 June 2011, making the total number of cases 1823, of which 18 have been fatal. Thus, between 31 May and 2 June, there have been 56 new cases of HUS (2 fatal) and 156 new cases of EHEC (2 fatal) reported globally.
Reinhard Burger, head of German public health and president of the Roberto Koch Institute admitted that the outbreak of the deadly E.coli may take months before it stops.