Controversial dam project sees Piñera's support plummet to a new low
Monday, June 6th 2011 - 11:32 UTC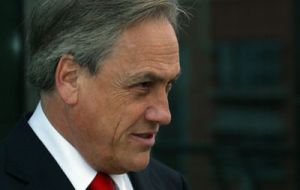 Public support for Chile's conservative President Sebastián Piñera fell to a new low of 36%, according to an Adimark poll released Thursday, while outright rejection of Piñera's government reached a record 56%.
This compares to the April Adimark figures, which showed support at 41% and rejection at 49%. The numbers come just two weeks after Piñera's May 21 presidential address to the nation, one that was largely overshadowed by images of protests and police responses.
The top lieutenants in Piñera's government – Interior Minister Rodrigo Hinzpeter, Energy and Mining Minister Laurence Golborne and Education Minister Joaquin Lavín – also saw their public support fall steeply.
These are the worst polling numbers seen by the Piñera government since taking office 15 months ago and come in the aftermath of a growing national debate on Chile's energy matrix – with Piñera promoting a HidroAysén dam and power line project that is rejected by 74% of Chileans.
Tens of thousands have joined protests of HidroAysén in 27 cities in Chile and more than 40 cities around the world since the hydroelectric project received environmental approval on May 9.
"The unexpected citizens' movement that appeared after the HidroAysén project was approved without doubt explains the drop in support," says the Adimark poll.
"Also contributing was the public disorder that occurred during student demonstrations and some unfortunate episodes relating to them, like the use of tear gas. The president's May 21 address to the nation did not help his polling numbers, nor did it generate any kind of positive effect that the poll could identify."
The 10 billion US dollars HidroAysén project – a joint venture of Spanish-owned Endesa and Chilean energy provider Colbún - proposes construction of five dams on two rivers in southern Chile and then 1,200 miles of power lines to transport the 2,750 MW of energy produced by the dams to central Chile.
Dam proponents insist that HidroAysén provides clean, low-cost energy that the country cannot do without. The project received tacit approval from two previous centre-left governments, but final official approval occurred in early May on Piñera's watch.
For its opponents, HidroAysén is the latest of a series of environmental "monsters" imposed on the public by Chile's governing class – left and right.
Critics say the energy project would destroy pristine areas of Patagonia and consolidate the nation's energy sector in the hands of just a few economic groups to ensure that Chile's already high energy prices remain so.
By Steve Anderson - The Santiago Times