Easter Island opens Visitor Centre as part of intensive conservation program
Monday, June 6th 2011 - 06:42 UTC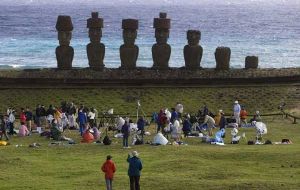 Chile's Easter Island opened the doors to its new sustainable visitor centre on May 13. The centre is located at the entrance to the Orongo Ceremonial Village, a UNESCO World Heritage site in a Rapa Nui National Park.
The centre was built with a US$200,000 grant from the World Monuments Fund (WMF), American Express, and Chile's National Forestry Commission (CONAF).
A press release from WMF explained the reason for the renovations:
"Severely impacted by increasing numbers of tourists each year, Orongo has been the focus of an intensive conservation and interpretive program supported by WMF and American Express since 2001.
The visitor centre is the last component of this program and serves as an introduction to the national park, providing information and educational materials for visitors as well as helping to monitor and manage visitation to the site."
Builders renovated the old reception centre with recycled materials and built a power system supplied by wind and solar energy. Other green initiatives included a rainwater recycling system and composting toilets. These features will help the centre and its visitors prevent damage to the fragile archaeological site.
Park Ranger Carlos Salinas Rojas spoke with The Santiago Times on location at the centre about the project.
"The park rangers have been waiting a long time for this centre so that we could give better attention and information to our visitors."
Salinas, a native of mainland Chile, has lived on Easter Island for 32 years and welcomes guests to Orongo with a smile or a jovial quip.
When asked what his favourite part of the centre was, Salinas replied, "the kitchen".
By Erin Allen - The Santiago Times