Falklands approves £ 45.5million 2011/2012 budget with a surplus
Monday, June 6th 2011 - 18:13 UTC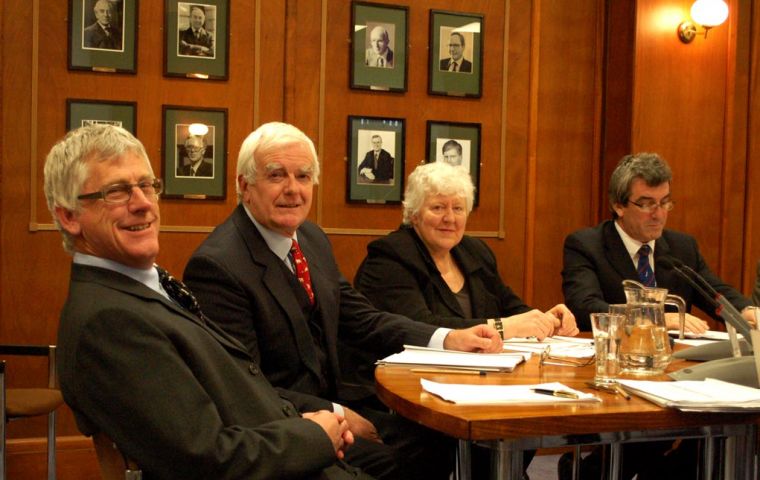 The Falkland Islands ended the approval process for the 2011/2012 budget, following the positive report from Financial Secretary Keith Padgett to the Legislative Assembly budget session.
Mr Padgett reported that as a result of the significant efforts already put into the budget process, the Select Committee's deliberations were quickly concluded and the budget proposals were accepted without amendment.
Therefore the proposed appropriation remained unchanged at £45,466,270, and the budget surplus for 2011/12 remained at £101,650.
The Select Committee approved all the proposals on revised fees and charges as well as the proposals on pay, pensions, social payments and allowances.
The £10 million for capital expenditure programme included the following major allocations:
• £3.6 million for Municipal Services, which includes several infrastructure related schemes (including schemes related to water and electricity supplies and sewage disposal). It also includes a provision to fund the potential construction of a wind farm to provide electricity to the Mount Pleasant Complex.
• £3.4 million for Government Land and Buildings, which includes further Abattoir improvements, the relocation of the Fisheries Department from unsuitable offices on FIPASS, and relocation of the Museum and part of the Public Works Department.
• £1.13m for Roads, to cover Camp and Stanley road networks
No subsidy has been allocated for FIDC for the forthcoming year, since the Corporation is able to fully fund its operations from accumulated balances.
This represents a one-off saving, and annual subsidy allocations of £395,000 are included in the projections for future years.
£250,000 was agreed to directly support the agricultural community via the Farm Improvement Programme and other related schemes. In addition, an allocation of £1.7m was approved for the continued operation of the ferry and coastal shipping service.
In terms of the main subvention bodies, the following allocations were agreed: £438,000 as a contribution to the Tourist Board, to support investment in the promotion and development of tourism; £216,000 as an operating subsidy to FIMCo, to demonstrate the ongoing commitment of the Legislative Assembly to farmers and the meat industry; £159,000 to the Media Trust to support the Falkland Islands Radio Station, including £15,000 which will be made available as matched funding; £110,000 to support the Museum and National Trust, including £10,000 which will be made available as matched funding; £67,000 to support the work of Falklands Conservation. Total departmental expenditure was agreed at £42m.
The three largest departments remain as Health and Education (with spending of £12.7m), Public Works (with spending of £8.9m), and Natural Resources (with spending of £6m).
Taken together these departments account for two thirds of projected departmental spending. The Budget Book is to be published in the next few weeks. (PN).