EU aid for farmers hurt by fresh produce slump triggered by E-coli outbreak
Tuesday, June 7th 2011 - 00:55 UTC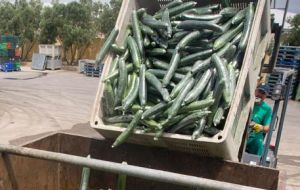 European Union farm ministers will try on Tuesday to agree financial aid for fruit and vegetable producers whose sales have been hit by an E.coli outbreak that has so far claimed at least 22 lives in Europe and triggered a scare in fresh produce consumption.
While the structure of the compensation package and the amount of aid have yet to be defined, the European Commission said on Monday it expected the ministers to reach a provisional agreement at an emergency meeting in Luxembourg.
"I'm not sure that we will actually have a legal proposal on the table tomorrow ... I think our hope is that we can reach an agreement in principle," the Commission's agriculture spokesman Roger Waite told a regular press briefing in Brussels.
One EU source said the most likely solution being discussed within the Commission was to extend an existing EU crisis prevention scheme that compensates fruit and vegetable producers for withdrawing products from the market.
Under this plan, until the end of June EU producers would receive about 30% of the total value of unsold products in financial aid paid directly from the EU budget, though the exact percentage was still being discussed, the source said.
National farm officials will meet in Brussels Monday to try to put a figure on the financial damage caused by the deadly E.coli outbreak and the slump in sales of fresh produce that followed it.
Spain's Deputy Prime Minister has threatened legal action against German regional authorities for wrongly identifying Spanish cucumbers as the source of the contamination, but the Commission insisted the crisis had affected all EU producers.
"We've seen a drop in consumption. There was already a problem with consumption before any comment was made about Spanish cucumbers," said the Commission's Waite.
"The important point as far as we're concerned is that we find an EU solution to what is an EU-wide problem ... that supports all fruit and vegetable producers across the Union".