Energy-short Argentina stocking LNG to face falling winter temperatures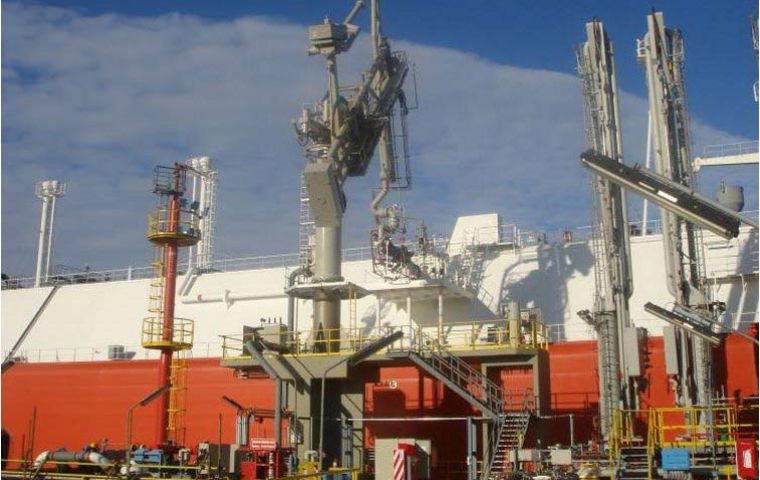 Argentina will receive this week two LNG cargoes from Spain's Gas Natural as it steps up purchases to meet rising demand in the face of falling temperatures, according to Argentine state owned energy company Enarsa sources.
The first cargo is scheduled to reach the floating re-gasification terminal in Bahia Blanca, south of Buenos Aires province for unloading this week. It is a 130,000 cubic metres cargo sourced from Trinidad and Tobago and delivered by the Sestao Knutsen vessel, he said.
The source said the second cargo is set for delivery in Escobar, where the country's second floating terminal started operations for the first time this year. The 70,177 cu m cargo is being delivered aboard the SCF Arctic, with supplies coming from Spain, the source said.
Argentina is stepping up LNG imports in 2011 to as many as 45 cargoes of 130,000-138,000 cu m each, up from 24 cargoes in 2010. The government wants to minimize gas shortages, which reached 50 million cu m/d, or 40% of the 120,000 cu m/d average demand, in 2010 because of dwindling domestic output.
The country relies on gas for 52% of its energy demand, yet production is down 15% from a peak of 143.1 million cu m/d in 2004, as a result of limited exploration and maturing fields.
Gas shortages rose above 20 million cu m/d last week as temperatures dropped to freezing in parts of the country with the arrival of winter.
Argentina also has a contract with Bolivia to import 7 million cubic meters of natural gas a day, with that amount scheduled to increase to 11 million cubic meters next year.