IMF chief hopeful Lagarde in China after a 'no commitment' from India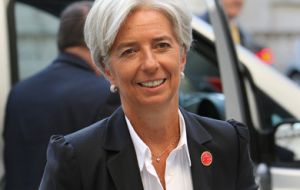 French Finance Minister Christine Lagarde is expected in Beijing after having visited India where officials made a 'no commitment' in support of her IMF candidacy. On the weekend her whirlwind global tour takes her to Saudi Arabia and Egypt.
Lagarde is considered the favourite to replace her compatriot Dominique Strauss-Kahn at the helm of the IMF after he was arrested last month on rape charges, but she faces a challenge from Mexican Central Bank chief Agustin Carstens.
After visiting Brazil last week, Lagarde met her Indian counterpart in New Delhi Monday and was due in Beijing as she sought to win over emerging market heavyweights who have criticized Europe's grip on the IMF top job.
However India did not commit support for Lagarde, according to Finance minister Pranab Mukherjee. Lagarde said that Indian officials had given positive views on her credentials in a television interview barely two hours after Mukherjee's comments.
"No assurance," Mukherjee replied tersely, on being asked whether he had given any assurance to Lagarde. The Indian finance minister reiterated India's position saying the candidate chosen for the top job at the IMF should be on merit.
Lagarde later described her meetings with Indian officials as "excellent". "I don't think I will betray their confidence in saying that they (Indian leaders) expressed positive views about my skills and credentials," she told CNBC -TV18.
"My suspicion frankly, is that a lot of countries are going to wait until June 10, because that is the closing of candidacy filing," she added.
Nevertheless Lagarde announced on her Twitter page her round of visits: "Here are my two new destinations after China: I will be in Riyadh on Saturday and Cairo on Sunday".
Big emerging economies argue the time has come for Europe to relinquish its 65-year hold over the IMF at a time when developing countries are increasing their shareholding and Europe itself has become a major borrower from the Washington-based lender.
Lagarde, who has won plaudits for her handling of France's G20 presidency this year, argues her candidacy stands on its own merits. She has sought to convince developing countries she would back their demands for more sway at the multilateral lender.
"If I was elected, I'd make sure that the diversity of members is represented at all levels," she said during a visit to Brazil late last month.