Chile's economy forecasted to slow growth following 8.9% in first quarter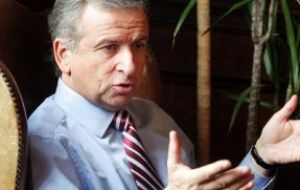 After months of record-setting growth, experts expect Chile's economy to slow. Analysts say that the 8.9% growth in the first quarter of 2011 will slow and the year will end with an overall growth of between 6 and 7% for the year.
Overall, the year's growth will still be record-setting. Even April's 6.3% increase over 2010 rates—which weighted down the 8.9% rate of 2011's first quarter—was the largest Imacec growth rate recorded since April 2005.
Imacec, Chile's main economic indicator analyzes 90% of the country's GDP to determine the state of the economy.
In a press release, Chile's Central Bank said industrial activity, trade and transport were responsible for April's large growth.
"In the first half of 2011 the Imacec showed an expansion of 7.8% and in the second half of 2011 the economy will grow by 4.9%" Matías Madrid, chief economist for Banco Penta, told EL Mercurio.
Analysts point to effects of the private industry on economic growth.
Mario Arend, chief economist at Celfin Capital, said the slowdown will reflect a fall in consumption and changes in the construction and industrial sectors.
The government will do what it can to sustain market growth and control inflation during the expected drop in consumption.
Finance Minister Felipe Larraín said that the Central Bank will cut its interest rate (TPM) in half in June and the government will adjust public spending to reduce inflation.
In addition, Larraín said the market will bolster from the 50 measures to be implemented as part of the government's economic competition plan.
President Sebastián Piñera mentioned all three measures in his annual May 21 State of the Nation address.
Larraín predicted a 7% economic growth rate for 2011. Other financial experts have said they expect the market to show an annual growth of 6 to 7% by the end of the year.
By Erin Allen - The Santiago Times