IATA has a new a Director General effective July first, Tony Tyler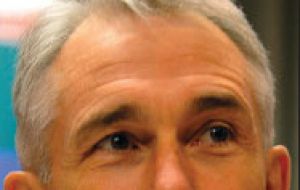 The International Air Transport Association (IATA) announced this week leadership changes at the conclusion of the Association's 67th Annual General Meeting (AGM) and World Air Transport Summit in Singapore.
Peter Hartman, President and CEO of KLM Royal Dutch Airlines succeeds David Bronczek, CEO of FedEx Express, as Chairman of the IATA Board of Governors following the completion of Bronczek's one-year term. This appointment is effective immediately and is for one year, ending with the conclusion of IATA's 68th Annual General Meeting.
Tony Tyler, former Chief Executive of Cathay Pacific, was confirmed to succeed Giovanni Bisignani as IATA's Director General and CEO. Tyler's appointment is effective from 1 July 2011, at which point Bisignani will become Director General Emeritus.
In his acceptance speech Tyler said his goal "is to make the world a better place for airlines to do the important business of connecting 2.8 billion people and 48 million tonnes of cargo".
Tyler, who has worked with Cathay Pacific Airways since 1978, served as the airline's Chief Executive from 2007 until his retirement in March 2011. Concurrent with this function, Tyler also served on the IATA Board of Governors from 2007 to March 2011 and was its Chairman from June 2009 to June 2010.
"I am pleased to hand over the leadership of IATA to Tony. He brings all the right personal qualities and business experiences needed to take IATA to even greater heights. It has been a challenging decade.
IATA and the industry survived and grew stronger because we had the courage to change and the focus to deliver. I thank the Board, our members, partners, and governments that embraced and supported change and believed in my vision. With Tony, I am sure that IATA is in good hands and I look forward to watching it adapt to emerging realities and see its relevance to the industry grow," said Bisignani.
IATA also announced that the Board of Governors agreed to appoint Alan Joyce, CEO of Qantas, to serve as Chairman from June 2012, following Hartman's term.