Ousted Palocci takes his job as member of Petrobras administration council
Thursday, June 9th 2011 - 05:52 UTC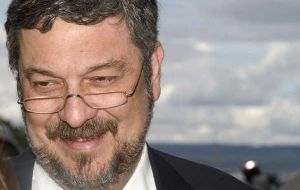 Antonio Palocci, who on Tuesday stepped down as President Dilma Rousseff's chief of staff over questions about his personal finances, will be taking a seat at Petrobras Administration Council, confirmed Brazil's oil giant president Sergio Gabrielli.
"He is a highly competent man and his resignation from government is not linked at all with his nomination to the corporation", said Gabrielli who revealed Palocci was elected to the post during an ordinary general assembly of the corporation's shareholders.
"Petrobras councillors are elected during the once a year ordinary general assembly and spend one year in the job. Former minister Palocci is most competent and qualified and the fact he resigned from government is not linked to his mandate", said CEO Gabrielli.
"The job belongs to the person elected, and it is not a post for a minister or former minister" he emphasized.
Petrobras Administration Council is a collegiate and autonomous board made up of nine members elected by shareholders at an annual assembly and for a period of a year. The last shareholders general assembly to name members for the Administration Council took place a year ago when Palocci was not even in government.
"In case who ever in elected wants to step down, the Administration Council can name someone else or leave the vacancy until the following ordinary general assembly", said Gabrielli.
Palocci resigned as chief of staff three weeks after Folha de Sao Paulo revealed that the former minister's assets multiplied by twenty from 2006 until becoming a member of Rousseff's cabinet in 2010. Palocci denies allegations of "influence peddling" or any wrongdoing but admits that the 10 million US dollars in counselling fees collected in 2010 by his company and exposed by the press, "are close to the mark".
The incident turned out to be the worst political crisis suffered by the five months old Brazilian administration that took office last January first.
Palocci was Finance Minister of former president Lula da Silva from 2003 to 2006 when he was forced to resign following a scandal involving bribes to members of Congress to support government legislation. The money allegedly was skimmed from government programs and the private sector.
Nevertheless his orthodoxy regarding budget and fiscal policies made him the 'darling boy' for Wall Street and has been a reference for the domestic and international business communities and investors.
In 2009/2010 he was also coordinator of candidate Rousseff's presidential bid. He is considered one of Lula da Silva's most efficient and loyal advisors, and a top line political articulator.
In spite of the fact that a federal prosecutor shelved the Palocci case, the congressional opposition promised to continue trying to have an investigation committee named.