President Mujica claims attempts to weaken him government "so I have to leave"
Saturday, June 11th 2011 - 11:16 UTC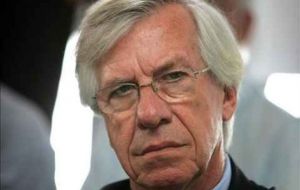 A controversy over land taxes inside the Uruguayan government exposed claims from President Jose Mujica that "meetings are taking place to debilitate his administration and even possibly remove him"
"I've been told of meetings where people around are saying that there is a situation of misgovernment in the country, so that I have to leave", President Mujica supposedly revealed last Monday during the weekly cabinet meeting.
He added "with good manners you can take me where ever, but don't forget I'm an old warrior who made it to the presidency against all odds and against what everybody said, and this president I can assure you is firmer than a post".
The fiscal controversy referred to farm land erupted openly when President Mujica presented a simple three step scale for taxing land owners beginning at 2.000 hectares and which according to official government figures involve approximately 1.200 landholdings with total revenue of approximately 60 million US dollar.
The first justification was that big landholders who don't exploit their farm must be taxed; later the purpose of the tax collected was for infrastructure.
Vice-President Danilo Astori immediately reacted claiming such a scheme would be contrary to the current tax policy on profits and changing the rules, 'even a minor change' would have an impact on investors' decisions.
In his daily broadcast Mujica said "we are not for taxing; we want farmers to multiply the country's wealth, but we also want to prod those who produce little but have a lot of land".
"We want those who benefited from soaring land prices to pay, those who have not increased production and possess a lot of land", added Mujica. "We are talking about those who purchased land at 300 US dollar the hectare which is now worth 3.000 USD".
But economist Astori said Uruguay had already tried taxing land ownership and it did not work. It also contradicts the recent tax reform implemented by the ruling coalition which targets production and profits.
"I'm thinking about the future, because when you send a signal, no matter how modest, you are suggesting that further changes can be expected in the future and that generates uncertainty, and uncertainty is not good for investors", replied Astori in radio interviews.
Astori is supported in the controversy by the ministers of Economy, Agriculture and Public Works, while Mujica has the backing from the Planning Office, Politically in the catch-all-coalition, Communists, the former guerrillas group to which belongs Mujica, Socialists and other smaller groups support the president, while the more middle of the road groups are behind Astori.
However, when the main actors of the controversy realized the impact of Mujica's statements leaked to the press and saying that "there was a movement to debilitate him and maybe oust him", they rapidly tried to overcome the situation.
Vice-president Astori in a hastily organized political rally and next to lawmakers from his group said that it was good to have different points of view, 'that's democracy' but also insisted that this does mean disunity or challenge, "on the contrary there is no question about our loyalty and support for the president".
Astori made it a point to repeat several times the words "loyalty" to the president. In a similar attitude First Lady and Senator Lucia Topolansky went on a round of radio and television interviews saying "nobody is questioning the president's authority", democracy means debating and respecting ideas.
"The government of President Mujica is going through its best possible moment, the numbers of the economy, growth, investment, employment have never been so good, and this is the effort of the ruling coalition with its economic team", underlined Mrs Mujica.
Astori, with the support of outgoing former president Tabare Vazquez, disputed in 2009 the ruling coalition's presidential candidacy but lost to Mujica. It was an acrimonious campaign and it is no secret that there are rifts between the two sides referred to some aspects of economic policy. The Communist party leader that backs Mujica's proposal went as far as calling Astori a "verbal terrorist".
So far the Uruguayan economy has been growing sustainedly for the last eight years and the big question is what could happen if there is not a soft-landing when the cycle begins to moderate.
However whatever happens in Monday's next cabinet meeting, one, two or finally one only land tax bill, President Mujica's authority has been questioned, even debilitated and follows another pyrrhic victory only a month ago when the Uruguayan congress finally voted not to annul a much debated amnesty law benefiting military and police officers that allegedly committed human rights crimes during the military dictatorship, 1973/1984, the so called Expired Crimes bill.