Argentina in 2011 is exporting more fish than beef
Monday, June 13th 2011 - 12:37 UTC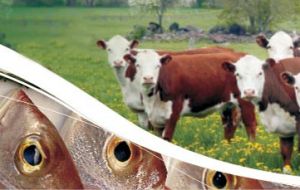 Argentina's cattle herd and beef production continues to contract and the latest statistics give full support to the tendency that begun in 2006: in the first four months of the year fisheries exports were more significant that beef overseas sales.
According to official statistics Argentine in Jan-April exported 121.000 tone of fish produce and 90.000 tons of beef. Furthermore the latest report from the Meat Industry Chamber, CICCRA, indicates that "in April the number of cattle sent to abattoirs reached historical minimums" not seen but in three occasions since 1980, one of them March 2008, in the middle of the conflict of the government with striking farmers.
In the first four months of 2011, a total of 3.47 million cattle were slaughtered, 17% below the same period a year ago. Meat production in those four months totalled 785.000 tons, which is 11.3% below the same period a year ago. The only bright side is that the per head weight yield was higher. Nevertheless compared to the first four months of 2009 the volume dropped 29%.
With scarce beef the two markets suffered: domestic supply was down 8.5% compared to the same period in 2010, and sales overseas collapsed 29%. This in practical terms means that exports represent 10% of beef production or only one out of ten kilos are sent overseas. In fisheries the relation is exactly opposite, which also helps to understand why fish exports are currently greater than beef.
The beef industry contraction has also meant that per capita consumption in Argentina dropped to 51.6 kilos during the first four months of 2011, which is 22% less that in 2009. This is partly because in the last twelve months the average price for beef cuts in the domestic market doubled after several years of frozen prices.
But there are some good signs: the number of cows of the total head of cattle sent to abattoirs has fallen to 39.1%, the lowest in the last 22 years, which means farmers are again looking into cattle breeding. It will take several years to recover Argentina's national herd but the latest numbers point in that direction.