Ban Ki-moon celebrates birthday on an Argentine coach and with 'alfajores'
Monday, June 13th 2011 - 22:02 UTC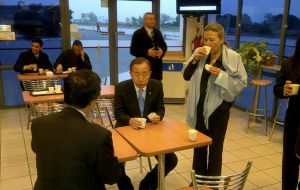 On the day of his 67th birthday, United Nations Secretary General Ban Ki-moon and his delegation arrived in Buenos Aires by coach after having landed in the northern city of Cordoba.

Buenos Aires two main airports, Ezeiza and the Metropolitan Aeroparque were closed because of the volcanic ash that has been hovering over south and central Argentina ever since the eruption a week ago of the Chilean volcano Puyehue.

The UN delegation flew to Argentina from Colombia on Sunday and since Buenos Aires was unreachable by air it was decided to land in Cordoba, where a coach was contracted for the 700 kilometres leg to the Argentine capital, escorted by the Federal Police.

Early Monday morning Ban Ki-moon decided to have breakfast in the city of Rosario, hometown of world soccer star Leonel Messi. Together with his wife Yoo Soon-taek and delegation they had coffee and local pastry in a highway gasoline station.

By mid-day they had reached Buenos Aires where he met with President Cristina Fernandez de Kirchner who apologized to the UN Secretary General for the inconveniences, which she blamed on Chile.

"Most certainly you were better looked after at the gasoline station than here", said jokingly the Argentine president who added that "the ashes are Chilean but the pastry ("alfajores") is Argentine".